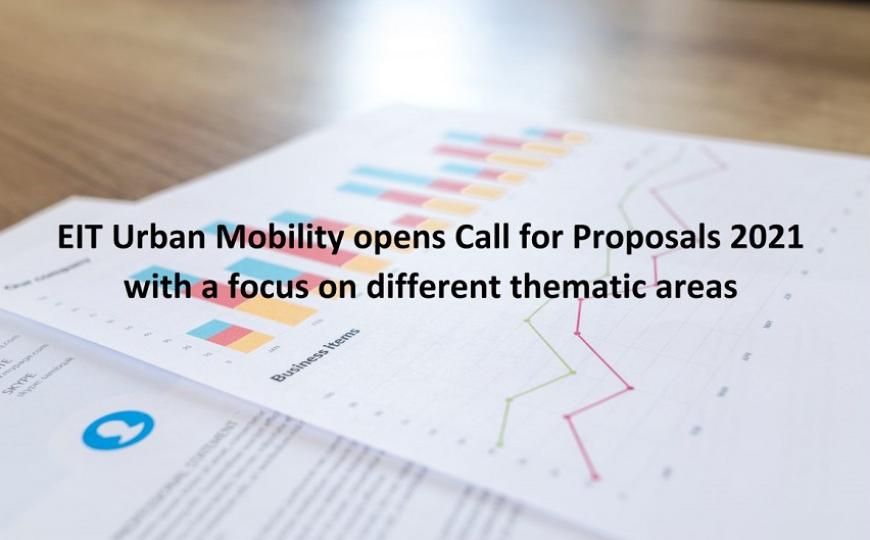 Please note that the deadline for submission of proposals for Call for Proposals 2021 has been extended and an additional step has been inserted in the call process ! Deadline for completing a Notification of Intent: 30 April 2020. Deadline for submission of proposals: 14 May 2020.
EIT Urban Mobility opens the Call for Proposals for Business Plan 2021
Application deadline: 14 May 2020, 23:59 (UTC+1/CET)
EIT Urban Mobility invites all EIT Urban Mobility partners as well as non-partner organisations to propose impactful activities that will support EIT Urban Mobility to deliver on its mission and create real benefits to cities, citizens and companies in Europe and beyond.
EIT Community looks forward to seeing inspiring collaborations unravel. This is an invitation to submit proposals that will help EIT Urban Mobility to continue building an even stronger portfolio of activities in 2021.
You can find the Call for Proposals 2021 document here.
Subscribe now to the EIT newsletter
The document describes the goals and the process of the Call and outlines how an integrated portfolio of activities for the Business Plan 2021 will be selected. Furthermore, it will give you clarity on:
What EIT Urban Mobility expects: Focus of the Call for 2021
How EIT Urban Mobility will evaluate and select proposals: Details on the evaluation and selection procedure and the applied criteria
What happens and when: Transparency on the timing of the entire process
Rules and eligibility: Guidance on financial and administrative issues, as well as eligibility criteria
Where to get help: We provide a summary of all key contact points for help and support
Thematic areas of the Call for Proposals 2021
EIT Urban Mobility seeks to attract proposals in the following thematic areas:
Innovation
Academy
Business Creation
Regional Innovation Scheme (RIS)
Factory
Citizen Engagement
Each thematic area is described in detail in the Call for Proposals 2021 document in chapter IV. Overview of CfPs for the Business Plan 2021. The chapter provides information on the overall purpose of the specific thematic area, the setup/structure of the area, general criteria for the Call including eligibility and funding specifications, the general evaluation criteria and the specific focus of this year's Call where applicable.
An overview of the type of activity of proposals expected in those areas is provided below:
Innovation
Focus on innovation activities delivering products / services / solutions at a Technology Readiness Level (TRL) of 5 and above. Innovation activities may fall into one of the following categories:
Research — creating and improving concepts for mobility solutions, with a focus on regulation
Test — building, testing and learning in fast iterations, co-creating with citizens, cities and partners
Pilot and implement — building pilots and demonstrating impact
Academy
Activities in the form of pilots and experiments to improve and introduce new content, formats and business models to the Master School, the Doctoral Training Network and the Competence Hub.

Academy activities may fall into one of the following categories:
Master School
Doctoral Training Network
Competence Hub
Business Creation
Activities to continue and improve content, formats and business models of the Accelerator programme, Scale-up Hub and Go Global.
Business Creation activities may fall into one of the following categories:
Acceleration in the Innovation Hubs South, Central, East, North, West (resubmissions only)
Accelerator programme, Central Services
Scale-up Hub, including Go Global
Regional Innovation Scheme (RIS)
EIT RIS focuses on countries with limited or no participation in EIT Urban Mobility, where innovation capacity is moderate or modest and which otherwise would not be able to benefit from insights and experience gained within the EIT Urban Mobility Community.
RIS Calls have the goal to connect new stakeholders from the RIS countries in the following activity fields:
RIS Innovation
RIS Education
RIS Business Creation
RIS Factory
Future Mobility Factory
Activities to support the exploitation of results and scale up urban mobility solutions. The Factory aims to receive proposals to create (semi) automated tools and other process-support to bring urban solutions to scale. Small and quick activities testing these processes are asked in this Call for Proposals.
Citizen Engagement
EIT Urban Mobility is looking for new, effective ways to co-create together with citizens, involve them in the ideation process, to look for and test suitable solutions together with industry, academia, cities and all stakeholders of a city. Citizen Engagement proposals should:
introduce new formats, contents and business models for citizen engagement activities in line with EIT Urban Mobility's Citizen Engagement goals
help create a new communication methodology and process where citizens and end-users are not only informed about science and innovation but also empowered
Submission of proposals
All proposals need to be submitted electronically via the submission system of the EIT Urban Mobility Intranet: here. Further information regarding submission is provided in Chapter III.1 Proposal structure and submission of the Call document.
Questions related to the process, EIT definitions and requirements and other general aspects of the Call for Proposals can be addressed here.
Matchmaking event
To facilitate the development of innovative proposals, EIT Urban Mobility organises a Matchmaking event for the Call for Proposals for Activities to be implemented in 2020 and 2021, which will take place on 3-4 March 2020 in Eindhoven, the Netherlands. More information can be found here.