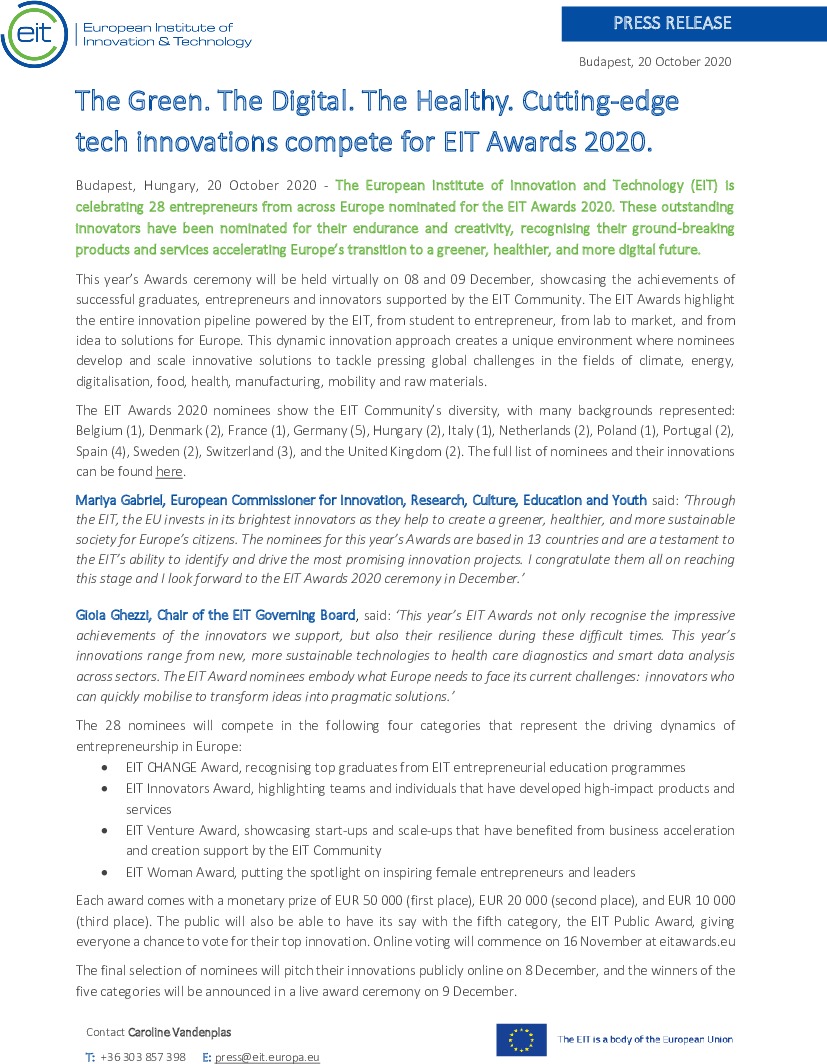 Budapest, Hungary, 20 October 2020 - The European Institute of Innovation and Technology (EIT) is celebrating 28 entrepreneurs from across Europe nominated for the EIT Awards 2020. These outstanding innovators have been nominated for their endurance and creativity, recognising their ground-breaking products and services accelerating Europe's transition to a greener, healthier, and more digital future.
This year's Awards ceremony will be held virtually on 08 and 09 December, showcasing the achievements of successful graduates, entrepreneurs and innovators supported by the EIT Community. The EIT Awards highlight the entire innovation pipeline powered by the EIT, from student to entrepreneur, from lab to market, and from idea to solutions for Europe. This dynamic innovation approach creates a unique environment where nominees develop and scale innovative solutions to tackle pressing global challenges in the fields of climate, energy, digitalisation, food, health, manufacturing, mobility and raw materials.
The EIT Awards 2020 nominees show the EIT Community's diversity, with many backgrounds represented: Belgium (1), Denmark (2), France (1), Germany (5), Hungary (2), Italy (1), Netherlands (2), Poland (1), Portugal (2), Spain (4), Sweden (2), Switzerland (3), and the United Kingdom (2). The full list of nominees and their innovations can be found here.
Below you can download the press release in several languages.
PRESS RELEASE: The Green. The Digital. The Healthy. Cutting-edge tech innovations compete for EIT Awards 2020