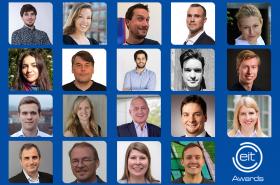 Budapest, Hungary, 9 July 2018 – The European Institute of Innovation and Technology (EIT) presents the 19 nominees competing in the EIT Awards 2019. Top innovators from the EIT Community are making their mark across Europe, delivering innovative solutions to the most pressing challenges facing our society.
The EIT Awards ceremony will be held in Budapest on 15 October 2019 during the EIT's annual Innovation Forum, INNOVEIT. The nominees represent the most promising graduates, entrepreneurs and innovators in Europe. Each nominee has been selected for tackling global challenges with ground-breaking innovations in the fields of climate, energy, digitalisation, food, health and raw materials. Their products and services are driving Europe's ability to innovate and creating jobs and growth for Europe.
This year's nominees come from Finland (1), France (2), Germany (5), Italy (1), Latvia (1), Netherlands (1), Norway (1), Poland (1), Portugal (1), Spain (1), Sweden (1), Switzerland (1), United Kingdom (1) and United States (1).
Press Release: Innovation made in Europe: leading entrepreneurs and innovators nominated for EIT Awards