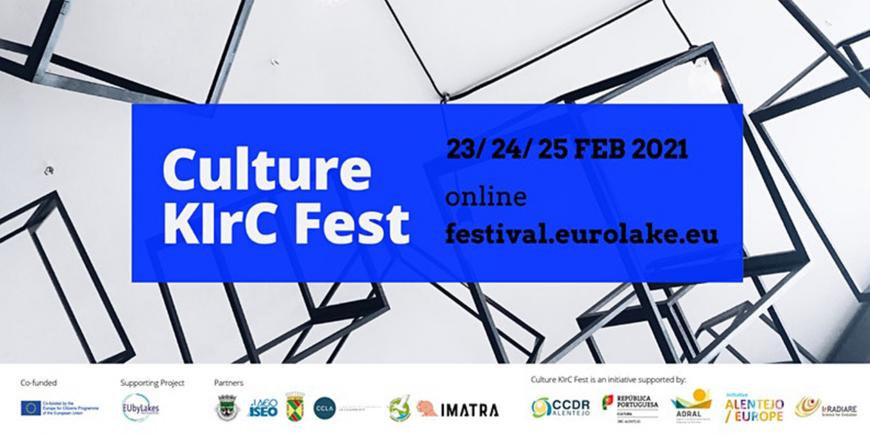 Culture KIrC Fest is a collaboration between artists, creators, authors and innovators within a digitalised regional cultural ecosystem.
Culture KIrC Fest follows dialog initiated during the Virtual Artistic Residency, within the EUbyLakes project, from May 9 to June 6 2020 and with this event it aims to deep the debate on Culture and Creative Industries (CCI) and path some solutions for the future along with the creative sector, artists and networks.
During the event, participants will be informed about an upcoming opportunity for the Cultural and Creative Sectors and Industries, as a new EIT Knowledge and Innovation Community (EIT KIC) will be launched in 2022 or 2023 by the European Institute of Innovation and Technology (EIT).
What to expect?
Interventions from EU Commission Top Key speakers, EU Regions, networks and much more
Live concert and performance
Open cafe discussions and round table debates
Podcasts
Open calls for artists
Call for artists
Artists from all over Europe are called to participate! All authoring and artistic disciplines are encouraged: dancing, writing, singing, scripting, drawing, writing, performing, design, illustration, sculpting and so on. If you are an author, artists or creator and want to see your work published on the festival's gallery, send an email with your works to residency@eurolake.eu.
Please, note that the deadline to submit your work is Friday, 19 February 2021.
More information can be found here
Agenda
The three-day event will include a series of panel debates, interviews with artists, live concerts and much more.
On Tuesday 23, Márton Herczeg, Head of Unit Strategy and Impact at the EIT, will be one of the speakers in the panel discussion focused on Europe. Speakers on that day will include Maria da Graça Carvalho, Member of European Parliament, Louise Haxthausen, UNESCO Representative to the European Union and Director of the UNESCO Liaison Office in Brussels and Mariachiara Esposito, Policy Officer at the European Commission, Cultural policies and cultural heritage innovation and research.
Detailed agenda and speakers can be found here
Register today!
For more information on the speakers, activities, what to expect and how to register please visit the dedicated event page at the link below: