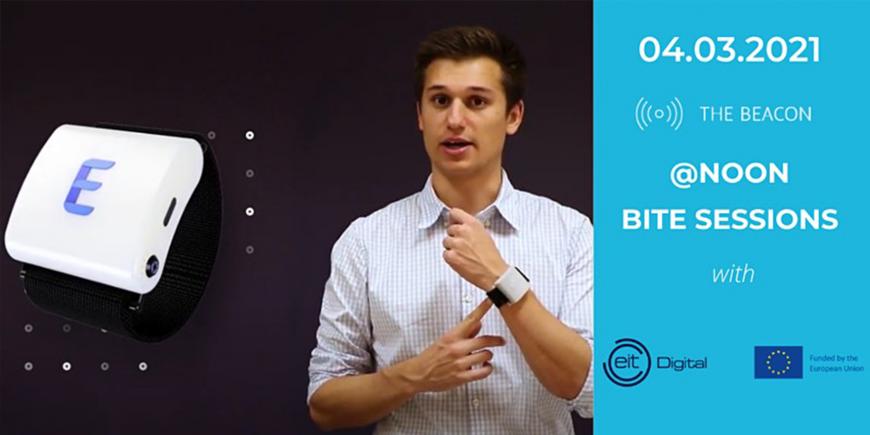 Launched within the EIT Digital Innovation Factory, start-up Entremo is deploying their product, a wristband to remotely monitor the vital signs of patients in hospitals and nursing homes in Hungary.
Peter Lakatos, CEO of Entremo, will talk about how their team of five EIT Digital Master School students went from winning a high-profile European hackathon to incorporating their startup in less than six months. The team was supported by four partners on board: ELTE-Soft, MOHAnet and Eötvös Lorand University from Hungary and InnoTractor from the Netherlands and he activity was selected by the EIT Digital Innovation Factory and received EUR 500 000 of support from EIT Digital.
Lakatos has a history of winning hackathons together with his team. In April 2020 for example, the team won a special EIT Health award at the Hack the Crisis Hungary hackathon with a pre-model of a 3D printed remote monitoring device that allows corona-patients to monitor key values by themselves.
In a couple of months, Entremo developed a remote monitoring device that automatically measures a patient's vital signs in non-intensive hospital wards. This device helps nurses check up on more patients, more efficiently and all remotely and the online platform can alert medical staff of any deteriorating cases. Don't miss the chance to learn more about this innovative solution, register for the event today!
Agenda
| | |
| --- | --- |
| 13:00 - 13:05 | Introduction to EIT Digital |
| 13:05 - 13:15 | Entremo Presentation |
| 13:15 - 13:30 | Q&A with EIT Digital and the Beacon |
| 13:30 - 13:55 | Q&A with a wider audience |
| 13:55 - 14:00 | Closing remarks |
Bite Sessions are a new format brought to you by EIT Digital and the Beacon, host of EIT Digital's new Satellite in Antwerp, Belgium. The partners joined forces to not only talk but show the true change that companies successfully made with the support of EIT Digital and by collaborating with EIT Digital partners. These companies will inspire, share their tips and tricks, and give you transparency in their process.