EIT Food IV Innovation Forum
Image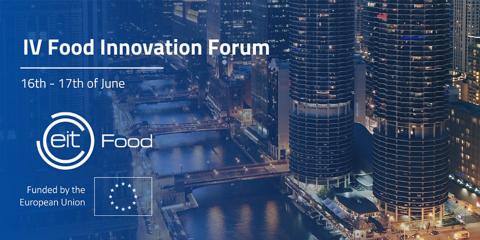 On 16-17 June, EIT Food will bring together the most innovative targeted-nutrition projects and experts and will talk about the future of targeted nutrition and how new trends will transform the sector in the upcoming years.
The EIT Food Innovation Forum is EIT Food's annual event focused on targeted nutrition. 
The traditional approach of the agrifood industry is going through a fundamental transformation. Therefore, the IV Innovation Forum, hosted in collaboration with the Food 4 Future event, will gather professionals from the entire value chain at the BEC (Bilbao Exhibition Centre) in Bilbao to show how targeted nutrition will revolution the food industry.
The changing scenarios on the agrifood sector made EIT Food focus on alternative proteins, sustainable agriculture, targeted nutrition, sustainable aquaculture, digital transformation of traceability and circular food systems. EITFood supports the overall digital transformation of the food system and collaborates with consumers to deliver a healthier and more sustainable lifestyle for all European citizens.
Since its first edition in 2018, EIT Food Innovation Forum has evolved and this year in its fourth edition will position itself stronger than ever as a key event for professionals around the targeted nutrition world.
Are you a food expert, innovator or investor? Are you working on an idea or a business that can change the agrifood game? Join the EIT Community on a two-day event where you change the agrifood industry for the good of the planet and people.
Expert-led workshops, inspiring talks and round tables where participants will come together virtually and discuss everything related to agrifood and innovation. 
Day 1
| | |
| --- | --- |
| 10:00 - 10:15 | Welcome and coffee |
| 10:15 - 10:45 | Institutional opening |
| 10:45 - 11:15 | Future Intelligence Research in targeted nutrition |
| 11:15 - 12:00 | Round table: Dietary guidelines and policies against unhealthy foods - New regulations and others |
| 12:00 - 12:30 | Networking coffee |
| 12:30 - 13:15 | Inspiring talk: personalised nutrition, the 'why, what, and who' |
| 13:15 - 14:00 | Key speaker |
| 14:00 | Wrapping and closure |
| 15:00 - 16:30 | Workshop on targeted nutrition for SMEs (online) |
Day 2 - Workshop
| | |
| --- | --- |
| 10:00 - 10:05 | Welcome and coffee |
| 10:05 - 10:15 | Opening and objective of the workshop |
| 10:15 - 11:00 | Round table: Microbiome and Biomarkers |
| 11:00 | Closure |
| 11:15 - 14:00 | International workshop on targeted nutrition for EIT Food partners (online) |
Register at the link below and get inspired by last year's event: