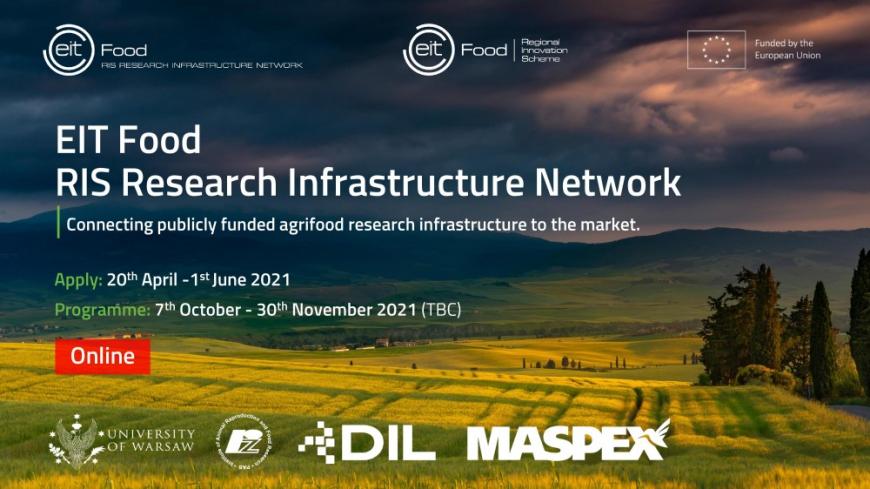 Are you from Poland, Italy, Romania, or Spain and managing publicly funded agrifood research infrastructure? Apply for the EIT Food RIS Research Infrastructure Network 2021.
Application deadline: 1 June 2021
EIT Food RIS Research Infrastructure Network (RIS RIN) is a capacity-building programme that supports scientific organisations that own publicly-funded agrifood research infrastructures. It provides participants with interactive training and dedicated support based on best practices and real-life examples to enhance the commercial use and visibility of their research infrastructure. It helps develop the research infrastructure commercialisation strategy, identify potential agrifood partners and promote the potential for science-industry collaboration.
Who can apply
The EIT Food RIS RIN is focused on supporting public sector representatives, including professionals working in science and technology parks or technology transfer/research support offices, as well as regional authority, national agency or municipality involved in publicly funded research infrastructure management and commercialisation.
The research infrastructure must fall under one of EIT Food's focus areas, including targeted nutrition, sustainable aquaculture, sustainable agriculture, alternative proteins, digital transformation of traceability, and circular food systems. Furthermore, the host of the research infrastructure must represent one of selected EU Member States countries (or regions), covered by the EIT Regional Innovation Scheme (EIT RIS).
In 2021, the pilot implementation focuses on: Italy, Poland, Romania, and Spain.
How it works
The programme is comprised of multiple days of online classes, workshops and mentoring sessions spread across several weeks and delivered by leading European experts in agrifood research and innovation management (EIT Food Partner), providing their expertise and experience in state-of-the-art research infrastructures commercialisation and innovation management relevant to the contemporary agrifood system. It is highly interactive and features various learning methods (e.g., lectures, presentations, team assignments, Q&A) incorporated with mentoring sessions. The programme ends with each team presentation on their research infrastructure commercialisation strategy.
The EIT Food RIS RIN workshops and mentoring sessions will be run by educators, researchers and experts from the University of Warsaw, Institute of Animal Reproduction and Food Research of the Polish Academy of Sciences, German Institute of Food Technologies, Maspex, as well as guest speakers.
Participants do not pay tuition and receive financial support of up to EUR 1 000 gross/person.
For more information, please download the EIT Food RIS Research Infrastructure Network brochure featuring some of aspects of the programme.
EIT Food RIS Research Infrastructure Network brochure
Timeline
EIT Food RIS Research Infrastructure Network will be held online on 7, 14, 21, 28 October and 4,10 November 2021 with a final session on 30 November 2021 (TBC).
Apply today!
Applications are open from 20 April till 1 June 2021. For more information on how to apply, please visit the dedicated website. Or go directly to the application portal at the link below: