Join EIT Food's 1st Northern Europe 4 per 1000 Regional Meeting on Soil Carbon Sequestration
Image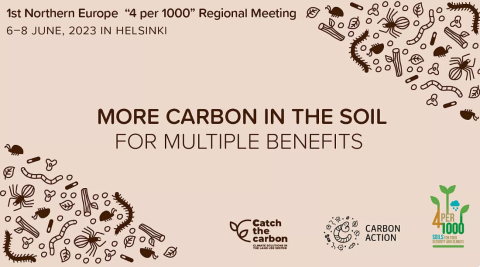 Join your Northern European colleagues in Helsinki, Finland, in June 2023 for new perspectives and new partners in scaling up regenerative agriculture! 
Sign up before the February 28 deadline.
What is the "4 per 1000" initiative?
The 4 per 1000 Initiative was created with the goal of achieving an annual growth rate of 0.4% in soil carbon stocks (or 4‰ per year) in the first 30–40 cm of soil. Agricultural soils play a crucial role in food security and climate change mitigation. The three-day meeting in Helsinki is designed to spark the kind of cooperation that will help us increase soil carbon sequestration, mitigate climate change and biodiversity loss, safeguard food production, and protect sources of water.
Who can join the event?
The 1st ever Northern Europe "4 per 1000" Regional Meeting, co-organised by the Baltic Sea Action Group and the "4 per 1000" Initiative, is open to researchers, farmers, NGOs, company representatives, and policymakers from: Finland, Sweden, Norway, Denmark, Iceland, Estonia, Latvia, Lithuania, France, Belgium, Netherlands, Luxemburg, Germany, Austria, Czech Republic, Slovakia, Hungary, Romania, Poland, Ireland, United Kingdom, Switzerland, and Ukraine.
When will these meetings take place?
Tuesday, June 6, 2023 at 2:00 pm
Wednesday, June 7, 2023 at 9:00 am
Thursday, June 8, 2023 at 9:00 am
Where?
The conference takes place at Hilton Helsinki Kalastajantorppa, just a short tram ride from the city centre. Expect local and regeneratively farmed food, and ample opportunities to enjoy fresh, early-summer Nordic greenery – and perhaps a dip in the Baltic Sea.
Our sponsors
The main sponsors of the meeting are the "Catch the Carbon" programme of the Ministry of Agriculture and Forestry of Finland, the Strategic Research Council of the Academy of Finland, and the "4 per 1000" Initiative. It is also sponsored by EIT Food and the Helsinki-Uusimaa Regional Council.