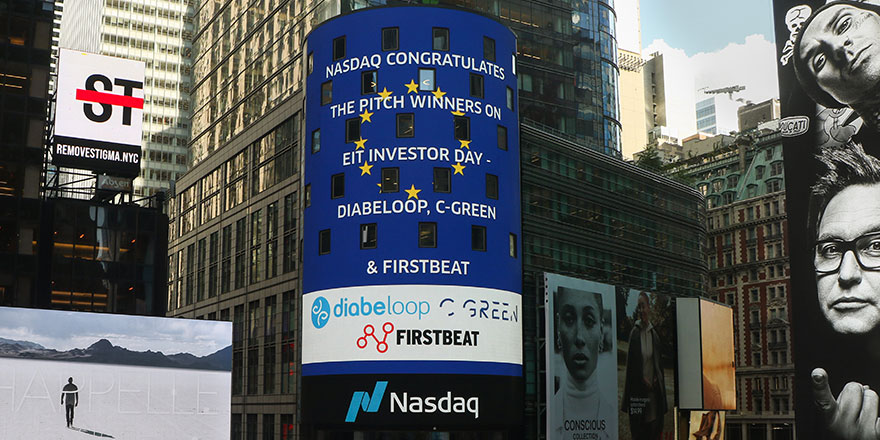 The EIT, together with Nasdaq, organised an Investors Day for entrepreneurs powered by some of the EIT's Innovation Communities.
Innovators supported by EIT Digital, EIT Health, EIT InnoEnergy and EIT RawMaterials pitched in three rounds, in the topics of digital, healthcare and cleanteach.
The event provided the EIT Community supported ventures with a unique opportunity to:
Pitch to selected investors and entrepreneurs from Nasdaq's ecosystem
Learn from companies listed on Nasdaq Stockholm and key relevant stakeholders about their experience in listing companies and successfully raising funds
Speakers and jury members included Niclas Homberg, MD Nasdaq Listing Sweden; Adam Kostyal, Senior Vice President of Listing Services, Nasdaq​​​​​​; Rolf Nagel, Governing Board member, EIT; Lena Apler Jump, Chairman of the Board of Collector AB, Collector Bank and Colligent Inkasso AB, and Kenneth Häggmark, CTO/Head of Innovation for Bublar.
The winners of the pitches:
Firstbeat is the leading provider of physiological analytics for sports and well-being. They transform heartbeat data into personalised information on exercise, stress and recovery. Hundreds of elite sports teams, wellness professionals, and millions of consumers worldwide trust Firstbeat to enhance performance and well-being.
Diabeloop develops disruptive technological innovations for the treatment of diabetes Type 1. Artificial intelligence analyses data in real time and takes into account the patient's physiology, history and data entries (meals or exercise) to determine the correct dose of insulin to administer.
CleanTeach: C-green technology AB by Erik Oden
C-green's goal is to turn hydrothermal carbonization (HTC) into a modern and cost-effective solution for almost any wet biomass sludge problem. Through innovation and modern industrial design, C-green believes that their HTC solution will become the new environmental benchmark for nearly all sludge disposal problems.
Images: