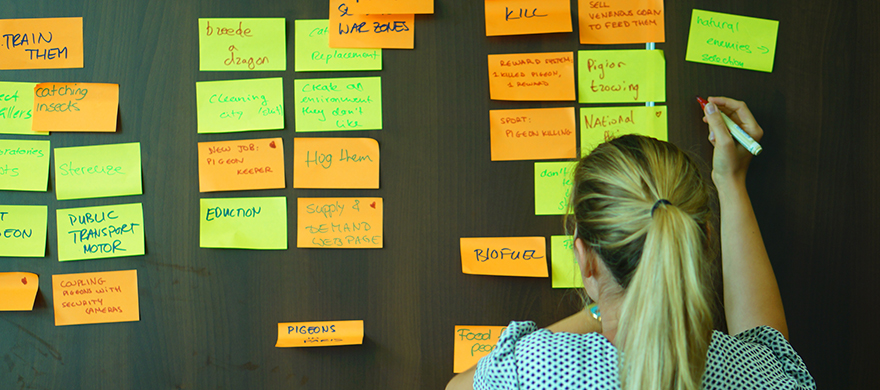 Climate-KIC's summer school students have arrived in Valencia and Berlin this weekend, which means it's time for us to look back at the second week of their journey.
During this last week in France and the Netherlands the students took their first steps in the world of start-up company strategy and business plans.
This year's programme includes 18 locations across Europe and is Climate-KIC's largest summer school to date. Students journey across three countries in six separate groups for a total of five weeks, gaining insight and experience from a selection of Europe's best universities and most innovative businesses.
The first two groups have now finished their second week, with four more groups set to start in August. The groups travel across Europe between July and early September, culminating in a challenge where students pitch their ideas for solutions to real-world climate related issues.
Based on their own creativity and climate change knowledge, students present a detailed business plan to a judging consisting of venture capitalists, start-up entrepreneurs and scientists.
Low-carbon agriculture
In France, students kicked off week two at Université Pierre et Marie Curie. The multidisciplinary group had their first introduction to the Business Model Canvas, a strategic method for setting up business plans for start-up companies.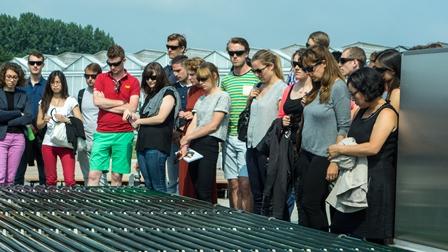 The group in France was also introduced to low-carbon agriculture at Grignon Farm – a demonstration project – and the Paris-based Agoranov incubator, which has a special focus on engineering sciences.
On Friday 19 July, the students exchanged ideas with representatives from École des Ingénieurs de la Ville de Paris and attended a presentation by CDC Climat Research – before taking part in a final ideation session and boarding a coach to their next #Journey2014 stop: Valencia.
Pitch training
The group in the Netherlands spent time at Utrecht University to explore sustainable mobility with a representative from the Province of Utrecht, as well as the Business Model Canvas with Climate-KIC's deputy director for Entrepreneurship, Frans Nauta.
During their last week in the low countries, the students met with Climate-KIC entrepreneurs and followed intensive lectures on risk management, business pitching and team formation before getting on a train to Berlin on Saturday 19 July.
Cultural backgrounds
A number of summer school students have contributed to the Climate-KIC Blog last week (overview on the #Journey2014 webpage), with many looking back at their experiences in the first week.
Claudia Georgi, a PhD student of Land and Water Engineering for Adaption at GFZ Potsdam, wrote about her visit to TU Delft's 'Dreamhall', which took place after a lecture on solar energy and physics. "From theoretical physics to guys who use their brains and hands," writes Claudia. The Dream Hall at TU Delft houses 16 projects, or 'dream teams' and offers the students working space, tools and offices.
Machiel van Stralen remembers #Journey2014′s visit to the Sand Motor installation at Kijkduin beach. "With sea levels expected to rise in the coming decades, the Dutch coastline needs constant reinforcement. The Sand Motor provides a cost-efficient and 'green' solution as it naturally strengthens the coastline by forming an extra buffer between the land and the sea whilst also creating a habitat for birds," writes Machiel.
Machiel also noted the wide range of cultural backgrounds in the student group: "It is always easiest to focus on the differences that divide individuals, but the first day already helped show that we might be more similar than we think.".
#Journey2014 online
You can follow the summer school on social media via www.climate-kic.org/journey2014.