EIT Climate-KIC and partners launch Massive Open Online Course on e-waste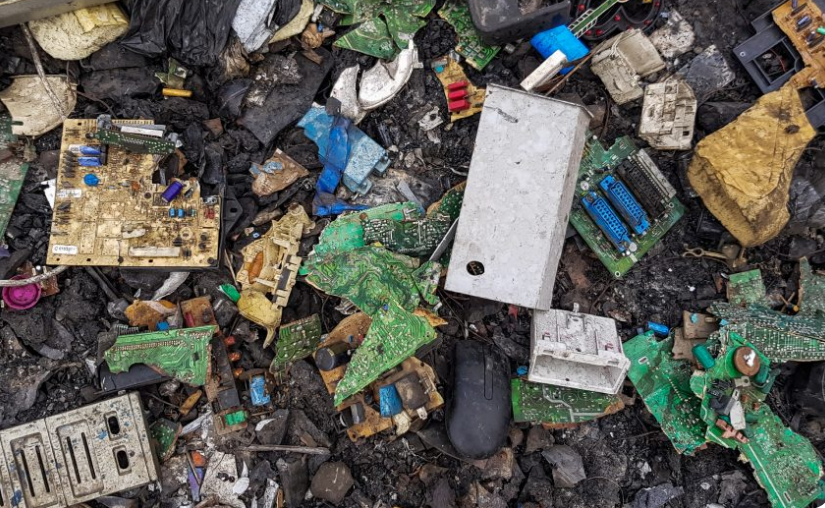 Estimated that by 2050, there will be about 120 million metric tonnes of e-waste produced per year
This far-outstrips current capacities to properly manage it in an environmentally and socially appropriate manner.
EIT Climate-KIC, together with its partners the UN, the Secretariat of the Basel, Rotterdam, and Stockholm Conventions (BRS), EIT RawMaterials, the International Telecommunication Union, KU Leuven and the World Resources Forum, has launched an updated Massive Open Online Course (MOOC) on the e-waste challenge, also with contributions from the World Health Organization.
Sign up now to the EIT newsletter
Our MOOC highlights that e-waste is a societal challenge that also is part of a larger opportunity to create a prosperous zero carbon future, driven by innovation, jobs, and investment. EIT Climate-KIC is seizing that opportunity by connecting both public and private sectors with climate change-focused education, research and innovation. Ideas are the oxygen of growth in the zero-carbon economy, and I am convinced that this collaboration with UNEP will spark many new ones.

Solveig Zophoniasdottir, EIT Climate-KIC's Learning Services Lead
'This MOOC will introduce you to the challenge of e-waste and especially to its environmentally sound recycling. Women and children are particularly vulnerable to impacts of e-waste processing on health. In some countries they represent as much as 30 per cent of the workforce. When women and girls are affected in this way as the mothers of today and tomorrow, our common future is affected too. The course will guide you through the problem, to opportunities, and to possible actions at local, national and regional levels, and will introduce you to policy tools, standards and best practices for the collection, recycling, and final disposal of e-waste', said Rolph Payet, BRS Executive Secretary.
I have always believed that information and communication technologies (ICTs) have a vital role to play in combatting the major environmental challenges facing the world, such as climate change and e-waste. So, I am especially pleased to support this MOOC which will enable stakeholders across the worl—in developing and developed countries alike—to access valuable e-waste resources, insights, best practices, standards and tools, and translate these into practical actions to protect people's health and the environment.

Malcolm Johnson, ITU (International Telecommunication Union) Deputy Secretary-General
'E-waste is a serious health problem affecting millions of young children, adolescents, future mothers to-be. These are people who work in dangerous conditions to retrieve precious metals to earn money to support their families. This work exposes them to dangerous chemicals, heavy metals, toxic air. E-waste pollutes their communities, their homes, their schools, their soil, their food, and the air they breathe. We urgently need to have e-waste very clearly identified as a health problem. As the health agency of the United Nations, WHO's duty is to communicate the evidence, the information, the tools we have available to address this emerging health hazard. We must raise awareness, and advocate for multisectoral policies that promote and protect our children's health and their rights,' added Maria Neira, Director, Department of Environment, Climate Change and Health, at the World Health Organization (WHO).
Karel Van Acker, professor in Circular Economy at KU Leuven in Belgium and a member of EIT RawMaterials, mentioned the huge opportunities of a circular economy for electronics in saving resources, lowering the environmental footprint and recovering value, and the close link it has with climate change mitigation.
According to Bas de Leeuw, Managing Director of the World Resources Forum, the relaunch of the MOOC on E-waste comes very timely.
Circular Economy is attracting worldwide attention, in particular stimulated by the programs of the European Commission and others. We need to make sure that this not only makes sense for the environment but also for the economy, and for wellbeing and human development in developing countries. At the WRF we have hands-on experience in this field through our Sustainable Recycling Industries (SRI) program, and we are very pleased to be able to share our knowledge and skills to the wider community. Making standards—which is a core priority in our portfolio—is one thing, turning them into action requires further capacity building and supporting all stakeholders in the value chains.

Bas de Leeuw, Managing Director of the World Resources Forum
Fast-growing waste stream
E-waste is a fast-growing waste stream and poses a number of serious threats to human health and the environment. Conversely, if undertaken in an environmentally sound manner, e-waste recycling can offer sustainable livelihoods, green and decent work, and contribute to the development of a circular economy.
The course opens on Tuesday, 18 February, and is aimed at students and researchers, policy-makers in the environment and telecommunication sector, practitioners, entrepreneurs, e-waste recyclers and government officials and invites participants to become part of the solution to this growing problem. Relevant for developed and developing countries alike, the eight-week programme covers all aspects of e-waste with a view to turn the threat of this global explosion of e-waste into an opportunity. The course is organised in five mini-courses which could be taken one after the other or independently.
The MOOC explores and explains the Basel Convention technical guidelines on transboundary movements of electrical and electronic waste and used electrical and electronic equipment, in particular regarding the distinction between waste and non-waste.
E-waste can be classified as hazardous waste under the Basel Convention due to the presence of toxic materials such as mercury, lead and brominated flame retardants which include some polybrominated diphenyl ethers listed in the annexes to the Stockholm Convention.
E-waste may also contain precious metals such as gold, copper and nickel and rare materials of strategic value such as indium and palladium. These precious and heavy metals could be recovered, recycled and used as valuable source of secondary raw materials.
Register for the Massive Open Online Course (MOOC)