EIT Community entrepreneurs recognised in Forbes 30 Under 30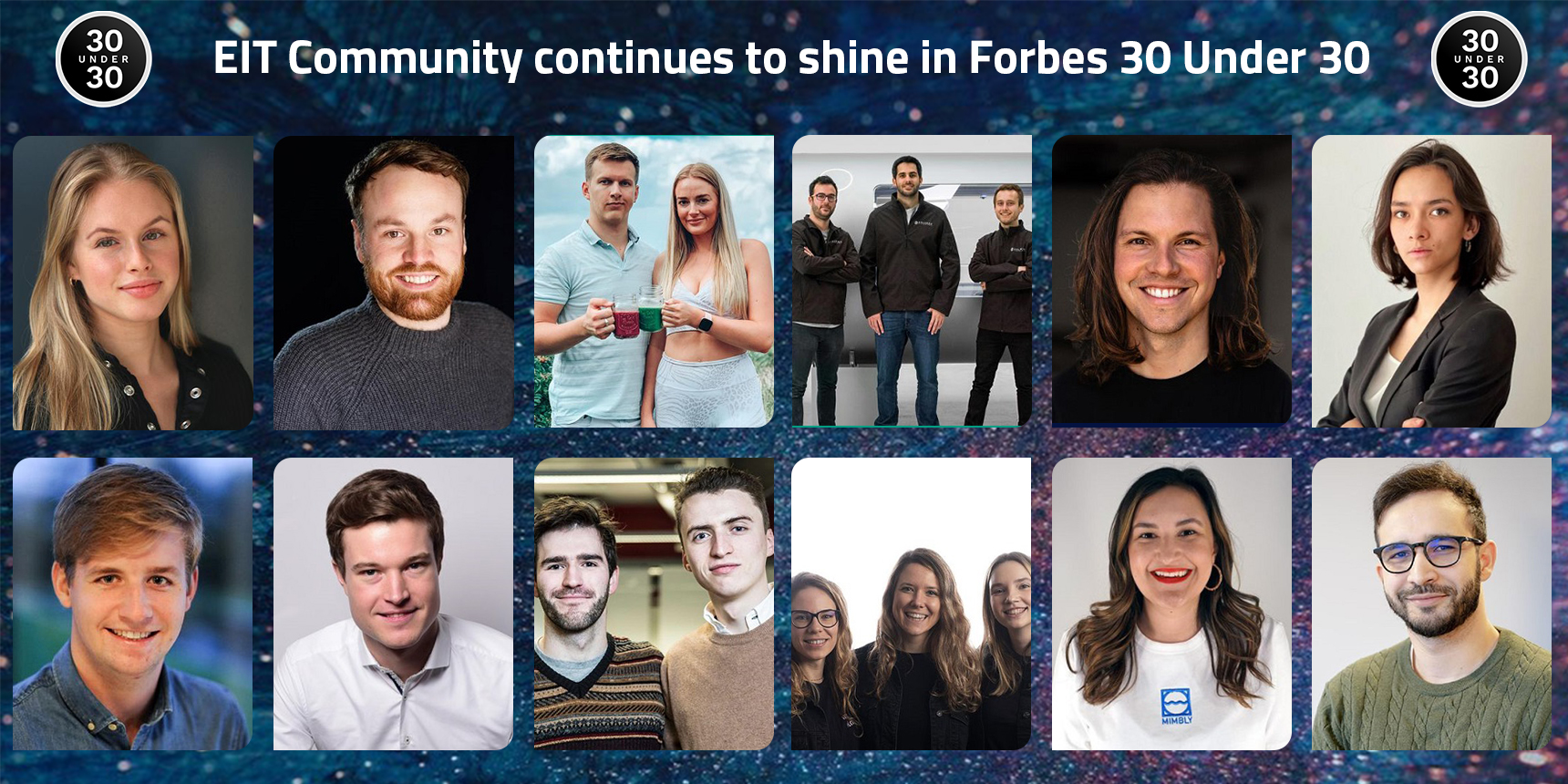 Meet the EIT Community innovators recognised by Forbes in their list of young entrepreneurs who shape the future of Europe.
In the sixth edition of the Forbes Under 30 Europe list, EIT Community supported ventures continues to be featured. This year 12 entrepreneurs are on the list across four categories: Manufacturing & Industry, Science & Health, Social Impact, and Technology. This brings the total number of EIT Community entrepreneurs recognised by Forbes on its prestigious 30 under 30 list to 67 since 2016.
MANUFACTURING & INDUSTRY
Zeleros Hyperloop
Zeleros
 designs new technologies for a more sustainable and efficient transportation of people and cargo worldwide. Their hyperloop-inspired system combines the speed of a plane, the convenience of a train and the frequency of an underground system, making long distance journeys faster, more energy-efficient and direct-emissions free.
EIT Climate-KIC
connected with the Zeleros team and helped them shape their innovative ideas into a market-ready product. David Pistoni Perez, Zeleros co-founder, won the
EIT Public Award in 2019
.
---
Kelly Kangur & Mart Salumäe - Decomer Technology
Decomer Technology
is an Estonian start-up tha tdevelops novel water-soluble, plant-based and edible packaging materials. The material is plant-based, tasteless, transparent and hypoallergenic and can be used in food, detergent, pharmaceutical, agricultural and other industries. Kelly Kangur, Co-founder & COO at Decomer Technology, won the
EIT Food Innovation Prize
in 2018, the competition that supports agri-food start-up with funding, mentors and pitch training. 
---
Andreas Eberhardt - Pionierkraft
Pionierkraft
enables people to share self-generated renewable energy, which acts within and between multi-family homes and in smaller apartment buildings in an economical and operator-friendly manner. The start-up wants to provide more people with access to clean and affordable energy, achieving this with their peer-2-peer-energy-sharing-solution. Pionierkraft is supported by
EIT InnoEnergy
and the start-up participates at the EIT InnoEnergy Business Booster, the annual two-day international networking event that showcases sustainable energy technologies across Europe.
---
Jorit Schmelzle - Peregrine Technologies
Peregrine Technologies
 is a Berlin-based AI technology company that is improving road safety and minimising CO2 emissions in cities. By deriving context from real-time traffic scene imagery, they prevent and avoid the likelihood of high-risk events in traffic. They automatically remove personal information in imagery, e.g. faces and license plates, making their service GDPR compliant. Peregrine is set out to support drivers and fleet operators to save lives and money. The company is supported by the
EIT Urban Mobility Accelerator
 programme.
---
SCIENCE & HEALTH
Ludovic Ampe - Neuroventis
Neuroventis
is a Belgian company that makes apps for patients to track neurological disorders including epilepsy and migraines. Their innovative technology leverages a blend of self-reported data and sensors, digital tools, data engineering, and behavioral science. Since its launch in 2017, the company has raised USD 1.5 million from investors and its platform has been approved as a medical device in Europe. The company is supported by
EIT Health
.
---
SOCIAL IMPACT
Dora Palfi - ImagiLabs
ImagiLab
is an innovative technology that makes coding more accessible and fun to young girls. The all-female trio behind it includes Dora Palfi,
EIT Digital Alumni
 and Co-Founder of ImagiLab. Dora came up with the idea during a research project at the EIT Digital Master school, knowing that there is a lack of women studying technology. Prior to founding imagiLabs, Dora co-founded
Women@EIT
, the community that brings together women students and alumni of the EIT.
---
Nima Tisdall - Blue Lobster
Blue Lobster
challenges the industrialised fishing industry by changing the supply chain, premiering a local and sustainable approach to how fish is caught, sold, bought and consumed. Through their app, they connect local fishermen with local restaurants, providing consumers with fresh, locally sourced produce every day. In 2019, Blue Lobster was chosen within the top 16 out of 2 600 start-ups in the
EIT Climate-KIC
ClimateLaunchpad, the world's largest green business idea competition. This led to a place in the Climate-KIC Accelerator Stage 1, a mentorship programme where the start-up gets funding and mentorship support to leverage their business.
---
Victor Dewulf & Peter Hedley - Recycleye
Recycleye
, the intelligent waste management start-up, developed a computer vision system and affordable robotics to build the world's first fully automated material recovery facility. Recycleye's vision system can detect and classify all items in waste streams – broken down by material, object and even brand. The company has partnered with the
EIT RawMaterials Accelerator
that helped bolster Recycleye's mission to turn rubbish back into resources.
---
Isabella Palmgren - Mimbly
Mimbly develops sustainable water solutions and their innovative product is the MimBox which is an add-on recycling device for laundry machines. The product results in water savings, energy savings and the capturing of microplastics. Mimbly was supported by EIT Climate-KIC through the accelerator programme and Isabella was nominated for the EIT Woman Award in 2018.
---
Mikaela Larsell Ayesa - Future Closets
Future Closets provides the easiest way to adopt second-hand clothes and reduce your closet's footprint. The company is supported by EIT Climate-KIC and was selected as one of the 10 start-ups to enter the EIT Climate-KIC Nordic Accelerator.
---
TECHNOLOGY
Gary Lewis - Resourcify
Resourcify
provides a cloud-platform for digital waste management, with a focus on simplicity, neutrality and sustainability. With the digitisation of recycling, the company aspires to help the world transition to a sustainable and circular economy. Resourcify originally partnered with the EIT via
EIT Climate-KIC
who helped them to take the basic concept and turn it into a viable business case. The company then partnered with
EIT RawMaterials
to bring the solution to market.
---
Abdelhadi Azzouni - PacketAI
PacketAI
 is a French deeptech start-up that provides an Information Technology Operations (ITOps) solution promising best-in-class service to users while improving the bottom line. Its algorithms analyse large amounts of data and aggregate grouped event alerts to accurately predict incidents. Abdelhadi Azzouni, CTO at PacketAI, is an
EIT Digital
Master and Doctoral School alumni where he learned how to combine technical excellence with entrepreneurial skills. PacketAI has been able to obtain a collection of deeptech machine learning algorithms to optimise and automate IT operations from Abdelhadi Azzouni's PhD thesis work.
Check out the full list of Forbes 30 Under 30 Europe entrepreneurs