EIT Cross-Innovation Community Business Idea Competition 2018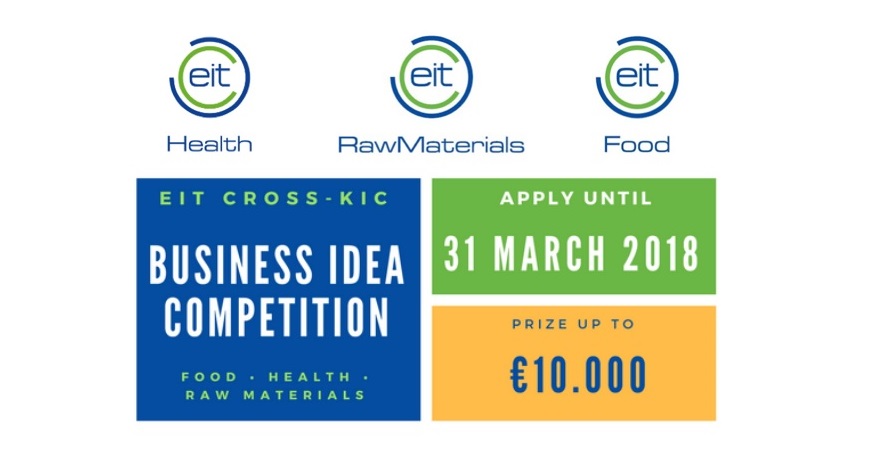 Turn your idea into business!
If you have a unique business idea and want to improve your entrepreneurial skills, then get engaged with Europe's largest innovation networks to take your idea to the next level!
The Business Idea Competition 2018 seeks at supporting idea holders aiming at embracing the venture path and wanting more training in entrepreneurship. It is jointly organised by EIT Health, EIT RawMaterials and EIT Food  to improve cross-sectoral innovation performance, with a special focus on - but not limited to -  EIT RIS eligible countries, along the following thematic areas:
Food 
Health
Raw Materials (excluding: food, oil, wood).
How does it work?
If your application is selected, you/your team will participate in a 2-day Business Planning Bootcamp,which will provide you with a unique cross-industry environment. The primary focus is on building a quantitative business model (revenues, financial planning etc.) You will also learn about how to build a business: how to build a team, business processes, organizational design and more. The participants will be shortlisted to participate to the Bootcamps based on their entrepreneurial motivation and the impact of their business ideas to the sector.
After the Bootcamp, you will participate to the next phase of the competition by getting further coaching/ mentoring after which you can finalise and submit your complete business plan.
The best teams with the best business plan will  compete at the Joint Pitch Finals for a  prize of up to EUR 10 000 each.
Image
What is the timeline?
Image

31 March 2018 at 17:00 CET: Deadline for submitting business ideas;
April 2018: Selection of ideas and invitation of the Bootcamps;
May to June 2018: Bootcamps for the idea laureates; 
June to September 2018: Mentoring and development of selected business plans;
Deadline for submitting business plans (different deadlines for each sector);
November 2018: Final Ceremony and awards.
---
Catch up with the latest news from the EIT Community in the Newsroom.
Subscribe to the EIT Newsletter to get the best of the EIT Community's news in your inbox once each month.
Do you use social media? Follow us and get updates in your news feed.