Selected start-ups will compete in the finals on 4 December 2018
The European Health Catapult Business Plan Competition, launched by EIT Health, identifies and accelerates promising European start-ups in biotech, medtech and digital health. This year, some 42 start-ups were screened by EIT Health regional representations – the EIT Co-location Centres (CLCs) and EIT Health InnoStars – and accepted into the 2018 regional competitions. Following coaching, they presented themselves in semifinal pitch contests and were judged based on the market readiness and anticipated impact of their healthcare innovations.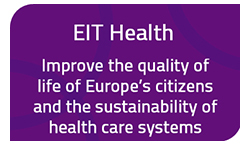 The 22 semifinal winners will compete in the finals at the EIT Health Summit, on 4 December 2018 in Łódź (Poland).
The 2018 EHC Biotech semifinal winners are:
Digital Test Tube Limited (EIT Health UK-Ireland): Digital Test Tube substantially improves Polymerase Chain Reaction (PCR) testing, the principal technique used in DNA analysis for medical, forensic and food safety applications.
Gedea Biotech AB (EIT Health Scandinavia): Develops a safe and antibiotic-free treatment of vaginal infections, affecting most women.
KYME NANOIMAGING S.R.L. (EIT Health Innostars): Produces an improved injectable medical contrast material for Magnetic Resonance Imaging (MRI) for better, safer MRIs.
LIfT BioSciences Ltd (EIT Health UK-Ireland): Start-up with a vision to develop the world's first cell bank of "cancer killing neutrophils" for all solid tumours has already shown 40-80% solid tumour necrosis in an FDA approved small study.
Sinntaxis AB (EIT Health Scandinavia): Developing the first medical therapy to restore functional abilities after stroke, Sinntaxis has patented and validated a class of molecules for stroke recovery, and will start a trial in 2019.
Synmabtix BV (EIT Health BeNe): Antibody-based drugs are used for treatment of chronic inflammatory diseases. Based on knowledge of the immune system, Synmabtix develops antibody leads that put a break on processes that are central in chronic inflammatory diseases.
SyNoesis Therapeutics Ltd. (EIT Health Innostars): A start-up biotech with the vision to cure Parkinson's disease (PD) and other major brain diseases has patented a new therapeutic treatment for treating PD.
Read more about the Biotech semifinals and the finalists here.
---
---
2018 EHC Medtech semifinal winners
Aenitis Technologies (EIT Health France): Patented medical devices for continuous, contactless and pressurless sorting of cells in suspensions, to address the challenges of cell therapy units and blood banks in cell sorting, cell washing and on cell isolation for blood, tissues and stem cells processing.
HydrUStent, LDA (EIT Health Innostars): A biodegradable, anti-bacterial and tailor-made stent, with underlying technology protected by a patent, reduces the risk of bacterial infection and the need for surgical procedures, cutting treatment cost by 60%.
INGA Wellbeing (EIT Health BeNe): Seeking comfortable, dignified clothing to empower patients and promote faster recovery, INGA Wellbeing worked with nurses to create award-winning day- and nightwear that accommodates IV lines, drains and monitors.
Medical Magnesium GmbH (EIT Health Germany): Bioabsorbable orthopedic implants made of magnesium eliminate the need for removal surgery, as they absorb in a controlled manner after healing the fracture.
Plasmacure B.V. (EIT Health BeNe): Plasoma is a chronic wound healing device consisting of an electronic pad that creates a cold plasma in the wound and a pulser that sends the electric current to the pad, to kill bacteria and stimulate healing.
SensArs Neuroprosthetics (EIT Health Germany): A device to restore limb functionalities to people affected by extremities amputation or nerve damage works by increasing the perception of the prosthesis as part of the body, and diminishing phantom limb pain.
VitaDX International (EIT Health France): Innovative medical device for early bladder cancer diagnosis combines fluorescence imaging and image processing using machine learning algorithms to detect cancerous cells in a urine sample.
TADA Medical (EIT Health Scandinavia): A fail-safe connector made to prevent dislodged medical tubes, to keep the tube, patient and personnel safe.
Read more about the Medtech semifinals, and the finalists here.
2018 EHC Digital Health semifinal winners
Consense Data Exchange (EIT Health BeNe): One-stop-shop for informed consent in medical research buids a platform where individuals express their preferences for data sharing and are matched to the right researchers.
FeetMe (EIT Health France): A connected insole and an associated mobile software that collects and analyses gait spatio-temporal parameters and variability – sold to pharma companies for clinical trials, or to hospital and rehabilitation centers for mobility assessment and gait training and to patients for home rehabilitation.
iBreve (EIT Health UKI): Digital health solution to prevent stress in an early phase by correlating breathing patterns, activity and stress level in real time. The system suggests personalised treatment of stress, with clinically proven relaxation exercises.
Kinesis Health Technologies (EIT Health UKI): Prevents falls among older adults with proprietary technologies, to screen, assess and assist intervention, working with health and social care teams around the world.
Sleepiz (EIT Health Germany): Using wireless signals, their device measures vital signs without touching the patient – enabling non-contact home diagnosis of sleep apnea.
Mindpax (EIT Health Germany): Continuing development of a monitoring system to predict severe mental health attacks, with promising results already shown in screening schizophrenia patients and the possibility to monitor bipolar affective disorders.
NeuroPsyAI (EIT Health Innostars): Uses artificial intelligence for earlier identification of signs of neurodegenerative illnesses, such as Alzheimer's and Parkinson's disease, in conventional brain scans.
Read more about the Digital semifnals, and the finalists here.