On 30 November 2017, the EIT took part in the fifth European ADA Awards in Brussels.
The annual ADA awards ceremony, hosted this year by the Digital Leadership Institute (DLI), is a long-standing pledge to the European Digital Skills and Jobs Coalition that recognises top European girls and women in tech and the organisations that support them. The event also displayed some of the best success stories from the Digital Brussels project in 2017.
This year, Laurent Roux , EIT Impact Officer, and lead on EIT Women Entrepreneurship and Leadership Activities, was asked to present one of the 2017 European Digital Girl of the Year awards.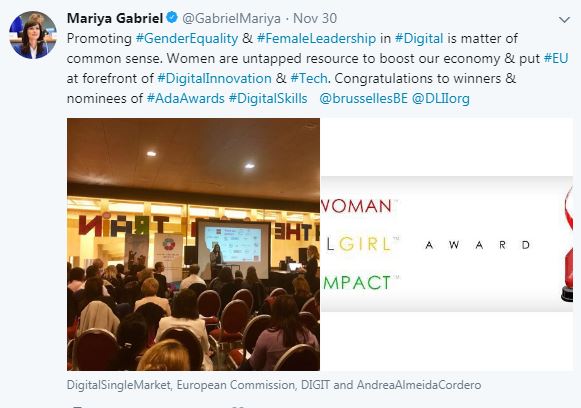 Ms Cheryl Miller, DLI Founder, opened the evening with a warm welcome to the participants. She was followed by keynote presentations from Ms Céline Vanderborght, Brussels Region Smart City Manager and Ms Andrea Almeida Cordero, Member of Cabinet for Ms Mariya Gabriel, European Commissioner for the Digital Single Market. Both speakers committed their support and that of their stakeholders to active engagement of girls and women for fulfilling the vision of an inclusive digital Europe.
Following a graduation ceremony of over 60 girls from the 2017 Digital Muse After School Programme for girls in tech, there was a short pitching session for new ideas in the world of women in tech. This consisted of innovations such as; an African tech internship programme, a professional mentorship program for Women refugees, and a virtual innovation space for Brussels citizens.
The final highlight of the evening was the 2017 awards ceremony, launched with inspiring keynote presentations from Ms Dinah Barret, Senior Solutions Architect for EMEA at Amazon Web Services, and Ms Gabriela M. Juric, 2016 European Digital Girl of the Year.
Listed below are the winners of the three award categories.
The 2017 European Digital Woman of the year award

Winner - Ms Pascale Van Damme, Vice President and General Manager of Dell EMC Commercial Belux.

The 2017 European Digital Girl of the Year award

Winner 15-17 Category - Maeve Galvin
Winner 11-14 Category - Aoibheann Mangan & Charlotte Johnson
Winner 10 and under - Helena Staple, Zara Ilyas, Ruby Scott

The 2017 European Digital Impact Organisation of the Year Award

Winner - Teen Turn
The EIT is pleased to have supported the Digital Leadership Institute and Digital Brusselles in their organisation of the ADA Awards, and look forward to further cooperation in 2018.
---
Catch up with the latest news from the EIT Community in the Newsroom.
Subscribe to the EIT Newsletter to get the best of the EIT Community's news in your inbox once each month.
Do you use social media? Follow us and get updates in your news feed.