This October, the EIT, in cooperation with Junior Achievement Bulgaria, held the first of a series of seminars in the field of Women Entrepreneurship and Leadership.
On 7 October, the first of a series of seminars organised by the EIT in partnership with JA Bulgaria took place in Sofia, The topic was: 'Women Entrepreneurs: From Doubt to Success'. During the afternoon session, young female students met with and listened to a variety of inspiring, successful women. The speaker list included:
Dr Anna Marie Vilamovska, , representative of Bulgaria in the European Commission's Board on Digital Entrepreneurship
Antoaneta Kabakova, Human Resources Director, Novartis Oncology
Mila Nenova, Director, Confindustria Bulgaria
Philipa Ivanova, Producer and Programme Director, BNT 2; JA alumni
Tsvetelina Nikolova, Managing Director, Katarzyna Estates
Laurent Roux, the EIT's Entrepreneurship Officer and Women Entrepreneurship and Leadership lead, attended the event on behalf of the EIT.
The 50+ participants gained valuable insights from hearing the personal stories of these inspirational women, and gained advice on finding mentors, support networks, and resources, while also learning the importance of keeping an interest in a diverse range of topics.
Inspiring a young generation to succeed in the current global economy is part the core mission of both JA Bulgaria and the EIT. Both co-organisers were extremely happy to have such a great collection of inspirational mentors and speakers at the event and to support the young participants in finding their own unique and rewarding career paths.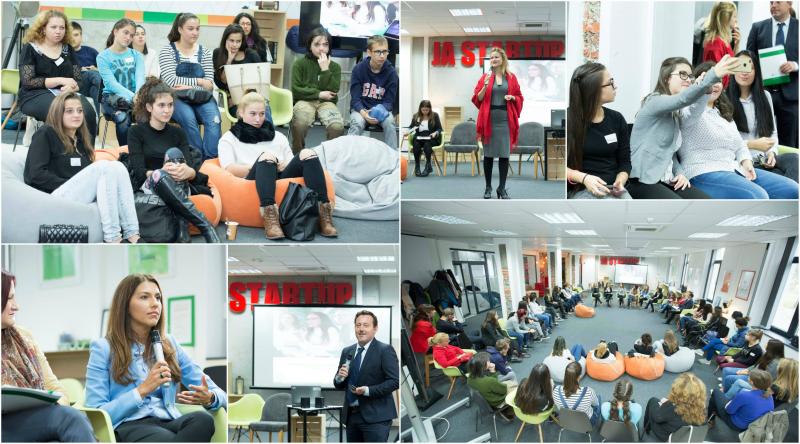 For more information on the EIT's Women Entrepreneurship activities, have a look at our dedicated page.

---
Catch up with the latest news from the EIT Community in the Newsroom.
Subscribe to the EIT Newsletter to get the best of the EIT Community's news in your inbox once each month.
Do you use social media? Follow us and get updates in your news feed.