EUR 5 million for urban mobility innovations responding to COVID-19 pandemic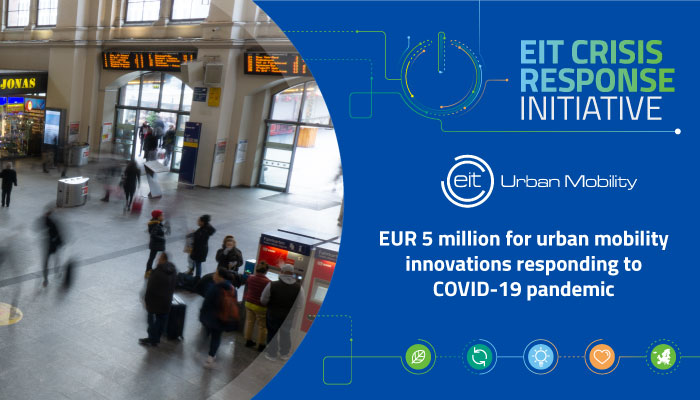 EIT Urban Mobility announces today the allocation of nearly EUR 5 million to fund 10 innovative projects.  
The projects were selected as part of the exceptional COVID-19 Crisis Response call to address urban mobility challenges posed by the pandemic. As part of the EIT's Crisis Response Initiative, these projects directly contribute to the European Union's response to the COVID-19 pandemic.
With just over three weeks for proposers to present their projects in May, close to 100 proposals were submitted involving 317 organisations from 30 different countries.
Read about the selected projects
The selected projects exclusively tackle the COVID-19 outbreak and provide an innovative transversal approach within the urban mobility area, addressing multiple areas such as innovation, citizen engagement, technology, and education. They will generate immediate impact as the implementation will take place already in 2020 with a duration of four to six months for each project.
A total of 54 organisations, including leaders such as SEAT (Spain), University College London (UK) and Centre for Research & Technology Hellas – CERTH (Greece), will work on these projects, testing solutions in at least 11 European cities, among others Barcelona, Milan, Copenhagen, Debrecen, Saint Germain-En-Laye and Budapest, to respond to COVID-19 challenges.
Image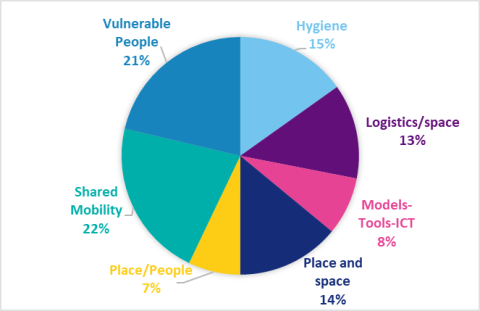 Solutions span from disinfecting public spaces, using 3D prototypes to re-configure congested parts of the city, to using data to improve crowd management and inform authorities as well as increasing confidence in the use of clean and safe public transport and shared mobility modes. The image on the right shows the % of funding per area.
With citizens at the centre of the design and testing the solutions, projects also consider the needs of vulnerable groups by, for example, adapting sustainable and safe modes of transportation.
In total, EUR 2.5 million comes from the EIT's Crisis Response Initiative. In addition, EIT Urban Mobility evaluated existing budget provisions for planned projects in 2020 and were able to reallocate another EUR 2.5 million to support promising solutions that will assist in the fight against the COVID-19 pandemic. 
All projects address the EIT Urban Mobility strategic objectives, while interpreting these in context of a COVID-19 response and the ensuing challenges to the urban mobility sector, such as societal confidence in shared services, health, and mass transit continuity.