Girls Go Circular Education Programme set for Expansion across Europe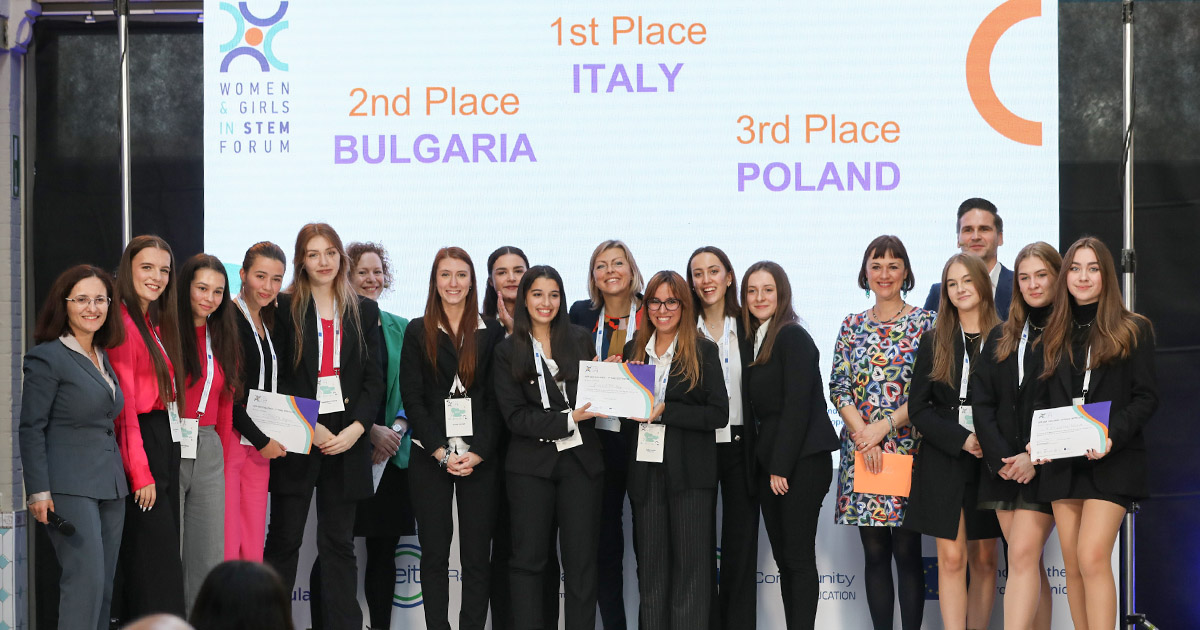 The Girls Go Circular Education Scheme will increase diversity in STEM and accelerate the green and digital transitions. The European Commission has pledged to scale up the scheme between now and 2027. 
Girls Go Circular was established in 2020 by the European Institute of Innovation and Technology (EIT) and is led by EIT RawMaterials. European Commissioner for Innovation, Research, Culture, Education and Youth, Mariya Gabriel, officially announced the programme expansion at the Women and Girls in STEM Forum (WGSF) 2022. The event took place in Brussels on 26 October.
The programme equips schoolgirls aged 14-19 with digital and entrepreneurial skills related to the circular economy. By the end of this year, 20 000 girls will have completed the Girls Go Circular training. It has proved incredibly successful to date and is already available in 13 countries. The expansion will bring the programme another step closer to its goal of skilling 40 000 girls by 2027.
Equality in STEM can Accelerate Europe's Decarbonisation
Currently, just 34% of STEM (science, technology, engineering, and mathematics) graduates are women. Women only represent 17% of people in ICT studies and employment in the EU. Europe needs more women with scientific and technological skills to successfully achieve the European Green Deal's 2050 deadline for climate-neutrality, and Girls Go Circular can contribute to delivering on this.
Addressing the WGSF, EIT RawMaterials CEO, Bernd Schäfer spoke of how eliminating gender bias in STEM is vital for the acceleration of Europe's decarbonisation:
If we create an inclusive environment in STEM and empower more women to study and pursue STEM related careers, the results won't take long to follow. Diversity sparks innovation, improves efficiency, and brings forth new and much needed solutions for the green and digital transition goals of the European Green Deal. The full and equal participation of all citizens in science and technology is crucial to achieving Europe's climate-neutrality goals.
Future Action to Tackle the STEM Gender Gap
The WGSF was co-organised by EIT RawMaterials and the European Commission Directorate General for Education and Culture (DG EAC). The event attracted more than 450 attendees online with more than 50 Girls Go Circular students and teachers gathered in Brussels for the live event. High-level panel discussions were moderated by the President of EIT Women, Anna Clark.
They identified future EU action that can eliminate gender bias in technological and scientific fields across Europe. These included:
Systemic interventions to transform organisational processes, cultures, and structures in a sustainable way
More female role models and mentors in STEM
Increased levels of women progressing to managerial and decision-making roles in tech and science
Gender sensitive education
Early exposure for girls to STEM and ICT so they can unleash their full potential
Increased education and awareness for men in ICT on women's achievements in the tech field
DG EAC Director for Innovation and International Cooperation, Antoaneta Angelova-Krasteva was one of the key panel speakers. She highlighted the negative impact that STEM inequality has on Europe:
For every woman that does not have the opportunity to launch and lead a tech company, Europe loses out, not only on talent and diversity, but it misses an opportunity for economic growth.
Fellow panel speakers included Yulia Stark, President of the European Women's Association and Barbora Bühnová, Associate Professor and Vice-Dean at Masaryk University, Czechia. Avramis Despotis, Design and Technology teacher at Pagkyprio Gymnasium, Cyprus also participated. The panel was co-moderated by Kelly Papadopoulou, a 19-year-old Electrical and Computer Engineering student at Aristotle University of Thessaloniki. Kelly was inspired to pursue her studies after completing Girls Go Circular training in 2020.
Deconstructing Gender Bias
In parallel to the high-level panel discussions, students involved in Girls Go Circular met with inspirational women in STEM for a mentoring session.
Three finalist teams, selected from over 160 contestants in the Girls Go Circular student challenge, also presented at WGSF. They pitched their ideas for an app to the public and a jury panel composed of Dana Adriana Puia Morel, Policy Strategist, DG GROW and Diana Filip, Deputy CEO, Junior Achievement Europe. The challenge was to create an app to increase girls' interest in STEM and deconstruct gender bias.
Girls&STEM, an app created by a team of six secondary school girls from Udine, Italy won the competition. Their app is aimed at girls aged 12-14 and features inspiring, female STEM role models that help players progress through games, quizzes, and adventures. A 25-minute play limit is set to ensure responsible screen time. As their prize, the girls will progress to an app coding course to help them continue their dream of launching their idea to market.
In second place, was the STEMFEM app, created by a team of girls from Sofia, Bulgaria, with STEMSister from Krasnystaw, Poland in third place.