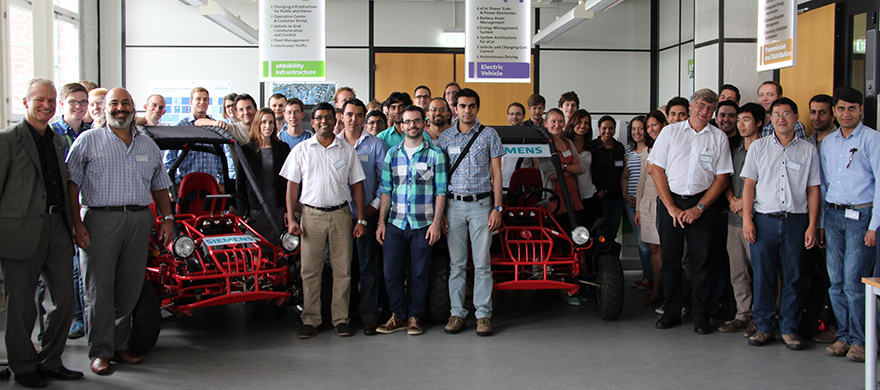 Starting in Stockholm and continuing in Karlsruhe, nearly 50 participants are taking part in the two-week programme of the 4th Smart Energy Systems Summer School August 18-29, 2014. The first week was spent at KTH Royal Institute of Technology in Stockholm, Sweden, and the second is ongoing at the Karlsruhe Institute of Technology in the southwestern part of Germany.
The summer school links the expertise in the areas of ICT and Energy from education, research and business, involving many partners of the two Knowledge and Innovation Communities (Kics) of the EIT.
"We are very happy that we achieved this cooperation and I look forward to the knowledge transfer and exchange between the lecturers and the participants", says Prof. Gilney Damm, Université Paris-Sud and Activitiy Lead of Smart Energy Systems Summer School.
The participants are mostly PhD students, industry representatives and Master students of the EIT ICT Labs Master School. The programme consists of two weeks of lectures, study visits, presentations and group work.
Highlights are study visits to the European Virtual Smart Grids Laboratory at KTH and to the Stockholm Royal Seaport, lectures on technical aspects such as communication and security, control of power systems as well as business aspects, i.e. innovation processes and patents. There was also time to get to know each other in breaks and social events.
"This group of people is the future of Smart Energy Systems in Europe. We want this group of talented engineers to be a network of future leaders", says Heiko Lehmann, Action Line Lead for Smart Energy Systems.
During the second week the participants are learning more about the EIT ICT Labs Idea Challenge, which opens for applications in the areas of Smart Energy Systems, Urban Life and Mobility, Internet of Things and Cyber security and Privacy on September 1st.