Meet the new EIT Alumni Board
On 29 June, the EIT Alumni Community held their second quarterly Board meeting of 2019 at EIT HQ in Budapest. This meeting marked the beginning of a new term for the EIT Alumni Board, as all five of the newly appointed members came together for the first time and elected their new President and Vice-President. 
The new Board consists of five members representing each of the current Alumni Communities of the EIT's Innovation Communities - EIT Digital Alumni, EIT Health Alumni, The CommUnity by InnoEnergy, EIT Climate-KIC Alumni, and EIT RawMaterials Alumni. These five EIT Alumni board members are supported in their work by an EIT Representative and an EIT Alumni Community Coordinator.  
The current focus of the EIT Alumni Community addresses the consolidation of an operational structure,  and the development of three priority areas for the future of the community: 
Community building and engagement 
Alumni Career Development
External Outreach and Communications.
 We are very pleased to introduce the new EIT Alumni Board for 2019-2021.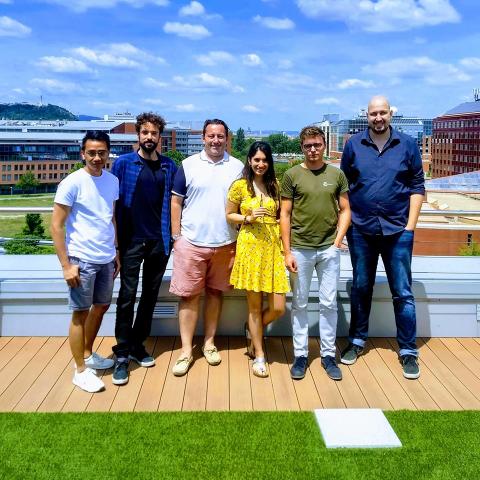 The EIT Alumni Board 2019 - 2021
EIT Alumni President: Ayşe Tolunay
Ayşe is the representative from EIT Health Alumni. Currently, she sits on the EIT Health Alumni Board as the Cross-KIC Representative and is the Regional Alumni Coordinator for Scandinavia.
EIT Alumni Vice-President: Jeroen Van Lent
Jeroen is the representative from EIT Digital Alumni.  In June, he was elected President of the EIT Digital Alumni Community for the period 2019-2021.
Representative of the CommUnity by EIT InnoEnergy: Tiago Mendes
Tiago is an alumni of the EIT InnoEnergy Master's School. Currently he is a Project Manager of the EIT InnoEnergy Open Space Studio.
Representative of the EIT RawMaterials Alumni: Emmmanuel Ricohermoso III
Emmanuel is the events officer of the EIT RawMaterials Alumni Board. Currently he is finishing his Master's degree with EIT RawMaterials​​​​​​.
Representative of the EIT Climate-KIC Alumni: Emily Swaddle
Emily is the EIT Climate-KIC Alumni Coordinator. Previously she managed EIT Climate-KIC's summer school programme, The Journey.
EIT Representative: Laurent Roux
EIT Alumni Community Coordinator: Robin Maxton
The EIT Community extends a warm welcome to the new Board, as having a strong Board offers a powerful platform to drive collaboration initiatives, to harness the massive potential of all EIT Alumni, and to provide effective representation for the entire community. 
Farewell and a big thank you to our previous Board Members
We would also like to express our gratitude to those who have served on the Board for the 2017-2018 period, who have volunteered their time and contributed to making the EIT Alumni Community what it is today. Their passion and dedication to developing the community is highly appreciated. We wish them the best of luck in their future endeavors, and encourage them to stay active members of the wider EIT Alumni Community.
Falko Döring - Former President of the EIT Alumni Board, and CommUnity Manager at EIT InnoEnergy
Francesco Bonadiman - Former Community Officer on the EIT Alumni Board and Former President of the EIT Digital Alumni
Jagadeesh Gandla - Former EIT Health Alumni Representative
Stefano Imoscopi - Former EIT Digital Alumni Representative
Mark Aguinaldo - Former EIT Climate-KIC Alumni Representative
Esmee Kooijman - Former EIT Climate-KIC Alumni Representative