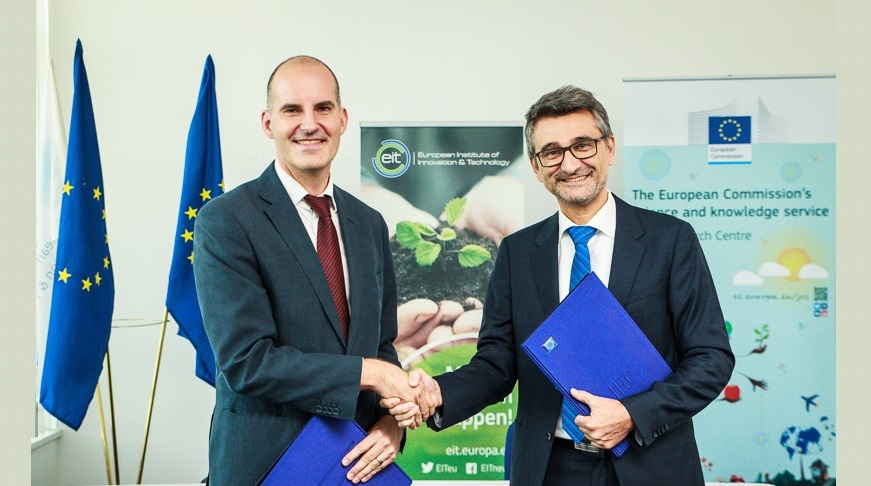 The EIT and the European Commission's Joint Research Centre (JRC) strengthened cooperation by signing a Memorandum of Understanding (MoU) today at the EIT Headquarters in Budapest.
Tibor Navracsics, European Commissioner for Education, Culture, Youth and Sport, responsible for both the EIT and the JRC, stressed that innovation and research require effective cooperation. 'I am very pleased to see that the EIT, Europe's largest innovation community, and the JRC, the European Commission's science and knowledge service, are stepping up their cooperation. By working more closely together, the EIT and the JRC will even more successfully support innovation, science and knowledge, and the sustainable economic growth they help to bring about. This agreement is a forward-looking and important step that confirms their commitment to boosting Europe's competitiveness and its citizens' wellbeing and skills.'
Following the signing, Martin Kern, the EIT's interim Director, said 'The strengthened cooperation now on the cards between the EIT and the JRC offers exciting prospects for Europe's innovators and entrepreneurs and is making true on our mission to bridge the gap in Europe between research and innovation. The opportunities offered by widening our cooperation with the JRC will be hugely beneficial to the EIT and its Knowledge and Innovation Communities, and unlock new potential for synergies and innovations.'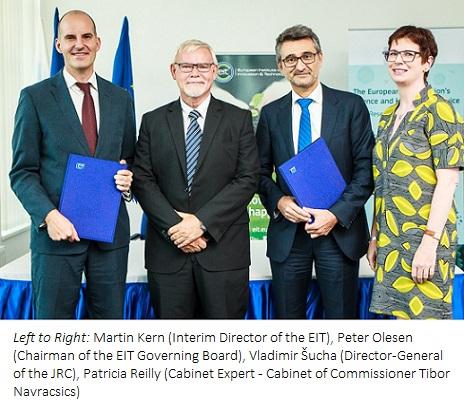 How will the Memorandum of Understanding (MoU) strengthen collaboration?
The MoU streamlines the sharing of knowledge and best practice between the two organisations by exchanging and disseminating information, jointly organising policy workshops and networking events and implementing joint analytical work.
What are the areas of common interest?
The MoU will be especially beneficial in areas of common interest, which are Smart Specialisation and the EIT Regional Innovation Scheme (RIS); education, training and skills, technology transfer, intellectual property, new financing mechanisms and knowledge management.
Who signed the MoU?
The MoU was signed by Vladimir Šucha, Director-General of the JRC, and Martin Kern, the EIT's interim Director.
How can I learn more about the EIT, its Knowledge and Innovation Communities and the JRC?
Follow these links to the EIT Community, the innovation communities, and here to learn more about the JRC in brief.
Catch up with the latest news from the EIT Community in the Newsroom.
Subscribe to the EIT Newsletter to get the best of the EIT Community's news in your inbox once each month.