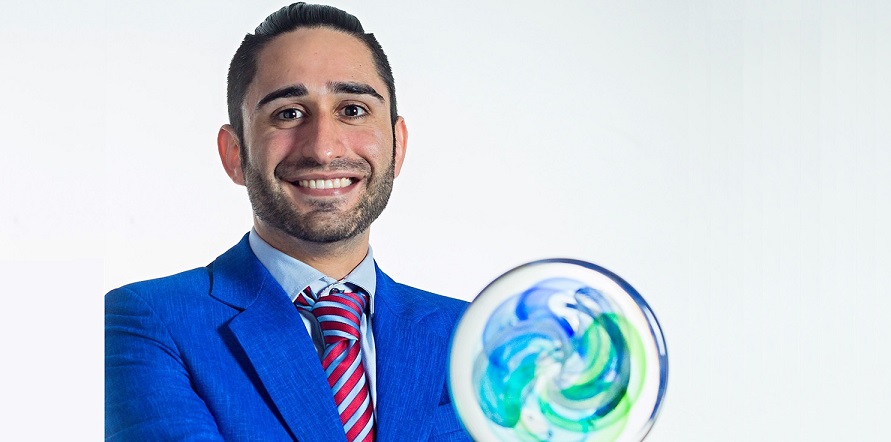 EIT is changing the European innovation landscape, and taking more and more people on board, creating a community of knowledge and entrepreneurship that is of immeasurable value to the energy industry and future regulations in Europe. In April 2016, alumni of various EIT Master programmes got to experience this spirit of change first-hand during the INNOVEIT in Budapest. One alumnus in particular though, Allen Mohammadi, lived a very special moment, as he was this year's winner of the EIT CHANGE Award for an invention that he realized with his exceptional ambition and drive, together with the expertise he acquired during his Master's studies in the ENTECH programme offered by KIC InnoEnergy.
Our greatest ambitions in life are always driven by strong feelings. Often our passions determine what we want to become, but Allen Mohammadi started envisioning his path after being deeply touched by the unexpected passing of his grandmother from a heart attack. The fact that she never showed any symptoms before made Allen want to understand everything about disease detection and learn how he could help. This was the beginning of his great career in healthcare technology.
Amazing as it sounds, Allen's experience as entrepreneur started when he was 12. At that time he didn't have any knowledge about how entrepreneurship worked, or even what this word meant. However, he and his brother, driven by passion and trying to help their friends, came up with an idea to make children learn math in a playful way. Given that, now gamification is a primary feature of many apps, they have been forerunners of this trend. Their product was then acquired by a big company and is still on the market in Iran.
This same team has after some years from their first success built a startup which is winning several international prizes, including recently the EIT Change Award. This great idea first came to them around 2013 and caused them to dive into the topic of health care, a subject not quite related to their careers as mechanical engineers, but highly related to personal issues. In 2013, Allen also started his Master's in the KIC ENTECH Programme. As he personally said, at the beginning of the Master's, he thought he had to abandon the great idea, since it wasn't related to ENTECH and since he needed to focus on his new path. However, what gave him the tools and motivation to continue his project anyways, was unexpectedly, and to his great surprise, the same ENTECH programme and the KIC InnoEnergy community. The latter supported his work and objectives, both stimulating him and giving him the required knowledge to continue with a solid background in the entrepreneurial environment.
'Entrepreneurs are just a minority of people that have the ability to take entrepreneurial risks' - says Allen -, 'The majority of people can work for a business once it's established, but entrepreneurs have the courage and ability to make breakthroughs to create jobs, and that's the difference'. When creating a product in a new field, such as health care for Allen, it became clear to him that it is not just about creating a product but that the execution is everything. Team management and other skills he learned in the ENTECH module of 'Entrepreneurship and Innovation' were solid pillars for the start of his enterprise. One particular course of entrepreneurship that Allen had gave him the chance to reach out to several key contacts who later became his advisors, providing guidance with their professional knowledge and network.
The invention is called 'Complex Disease Detector' and consists of a device able to track several parameters in the body and determine whenever an abnormality occurs. The concept is as simple as it is smart. The invention can detect an unusual heart behaviour before having a heart attack. The algorithm implemented is a machine learning based that improves disease detection on the basis of previous cases. Allen describes the idea as a 'self screening' service (not a diagnostic!). It will help people to be aware of their health, as well as facilitate the relationship with the family doctor, potentially reducing the cost of unneeded checks or, in some cases, more invasive techniques.
As difficult choices are a part of every life experience, Allen too found one at the end of his Master's: whether to pursue his studies with a PhD or follow his passion with the start-up he dedicated so much time to build with his brother. Smiling he tells us: 'When you set something as a short-term goal, there is the possibility that you reach that goal and it will be finished. But when you set a vision, you can bring in the people that share that vision. After meeting my first researcher in the field, he introduced me to a professor, and my relations literally grew like a chain; it went forward and forward'.
Driven by his personal motivation for the project's topic and by the advice of KIC representatives, he eventually chose the path which led him to win the EIT Change Award. His experience is therefore an inspirational success for the whole KIC community and for those dreamers among us students that would like to achieve similar results and are often kept back by the fear of failure. As he likes to say: 'We all have a lot of boundaries, but from my point of view, success starts where your boundaries end.'
Written by the KIC InnoEnergy Community Editing Team