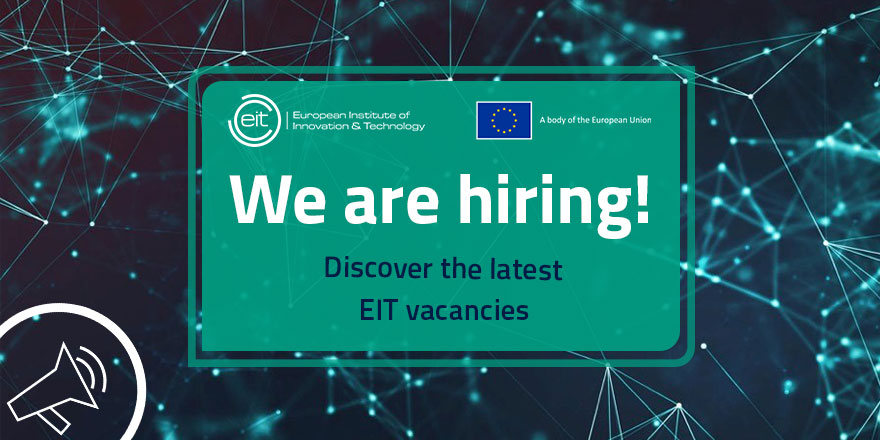 We are expanding our team. Discover the latest vacancies and join us at our headquarters in Budapest.
Working at the European Institute of Innovation and Technology (EIT) is an exciting opportunity to help drive Europe's ability to innovate and work towards a greener, healthier and more digtial future for Europe. The EIT offers an international working environment in Budapest and many possibilities for training and development.
The EIT is seeking applications for the following posts: Procurement Officer (CA FG IV), IT Support Assistant (interim) and a Communications Officer (interim). More details about each vacancy can be found below and on the careers page.
---
Procurement Officer
Deadline extended: 18 May 2021 - (13:00 Budapest time)
Reporting to the Head of Services and Finance Unit, the Procurement Officer will work in the Procurement and Administration Section, contributing to the effective implementation of the EIT's procurement activities in line with the Annual Work Programme and the procurement plan. The Procurement Officer will provide advice and training to operational units, adapt procurement procedures to the needs of the EIT and ensure that procurement procedures and contracts comply with EU legal requirements.
Tasks:
Provide advice on the preparation and drafting of tender documents (ex-ante verification) and contracts to ensure that the relevant legal provisions are respected
Coordinate and follow all steps of the procurement procedures including preparation of the procurement documents, publication, opening, evaluation, award and contracting, and providing replies to the information requests
Develop and update templates, guidelines and carry out training activities on procurement rules and procedures for the staff of the Institute, providing timely updates based on the latest EU regulations on public procurement, case law and lessons learnt
Prepare, monitor and report on the implementation of the annual procurement plan
Represent the EIT vis-à-vis its stakeholders, in particular contractors, in procurement and contract management aspects
---
Communications Officer (interim)
Tasks:
The interim staff should supervise the development, implementation of communication materials, with the support of external contractors as appropriate, with a special focus on social media
Conducting background and market research (including audience mapping)
Design and development of communications material (in particular, video, animations and social media)
Contributing to the production of visual content for dissemination across EIT channels
Support the organisation of related events such as webinars, info sessions, Award ceremonies
---
IT Support Assistant (interim)
Tasks:
Documentation support: service catalogue, update of policies, SOPs, Plans, projects documentation
First level support
Monitoring local backups and remote backups
Monitoring Security logs ATA, Splunk, Firewall, Zabbix
Please, note that the IT Support Assistant and the Communications Officer are both interim positions. The EIT procures interim services through Starjobs Hungary Limited based in Budapest so if you are interested in working at the EIT as an interim, please send your CV (Europass format) directly to Starjobs: info@starjobs.hu and marton.evelin@starjobs.hu.