Veolia & EIT InnoEnergy launch joint startup accelearation programme - Apply now!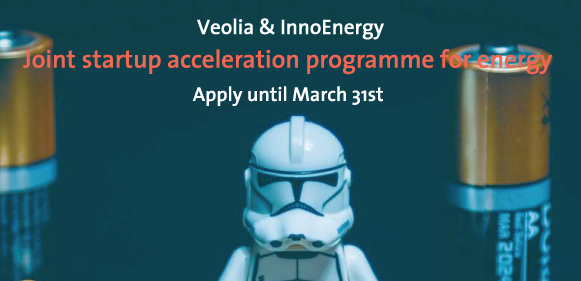 Veolia Germany and EIT InnoEnergy renew their cooperation and start their second hunt of energy startups in the German capital. Startups can apply until the 31st of March to the joint acceleration programme in order to become one of the five accepted ventures.
The goal of this initiative is to start cooperation with up to five startups and to support them during a period of up to two years. The package offered to the startups includes proof-of-concept and feasibility study with laboratory tests and business case validation, infrastructure services for tests on industrial sites, direct investment to boost growth as well as large scale demonstration project and marketing concept.
In addition, the startups get mentoring on industry specific support by Veolia via testing the feasibility of their ideas in an operative environment. Furthermore, the programme offers a business coaching by EIT InnoEnergy, containing legal, communication, or business plan trainings adapted the individual need of the startups. Finally, the winners will get access to the large EIT InnoEnergy network of partners as well as free offices in the startup ecosystem of the EUREF-Campus in Berlin.
The joint campaign is aiming to support European startups with sustainable ideas in the field of energy efficiency, energy transition and low carbon economy. The campaign focuses on innovative concepts in the following fields:
Energy efficiency: optimization management, concepts for energy recovery
Energy transition: waste2energy, energy storage, CO2 recycling
Industry 4.0: energy management, smart metering, data acquisition, block chain
More precisely, it targets B2B solutions for commerce and/or industry sites, eco-districts and municipal utilities, with focus on service provider topics.
"After a very intensive cooperation in 2016, we are happy to re-boost our cooperation with Veolia with this second joint call. From our experience we know that it is crucial that the flexible and fast-moving startups collaborate with the well-established market players. We are therefore convinced that the joint programme offers a highly attractive package for startups which combines Veolia's unique technical expertise with InnoEnergy's competence in business creation", says Dr. Christian Müller, CEO of EIT InnoEnergy Germany.
Etienne Petit, CEO of Veolia Germany underlines the value of good partners: "Young innovative companies will play a crucial role in the energy transition. That is the reason why we initiated our new startup cooperation programme U-START in addition to our in-house research and innovation."
Startups can apply online HERE to the joint acceleration programme until 31 March 2017.
Read HERE how clean tech start-up binee won financial support by being one of the 3 winning teams of the European-wide start-up competition U-Start, the joint campaign between EIT RawMaterials and Veolia.
Image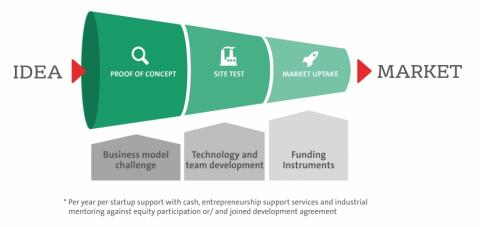 ---
Catch up with the latest news from the EIT Community in the Newsroom.
Subscribe to the EIT Newsletter to get the best of the EIT Community's news in your inbox once each month.