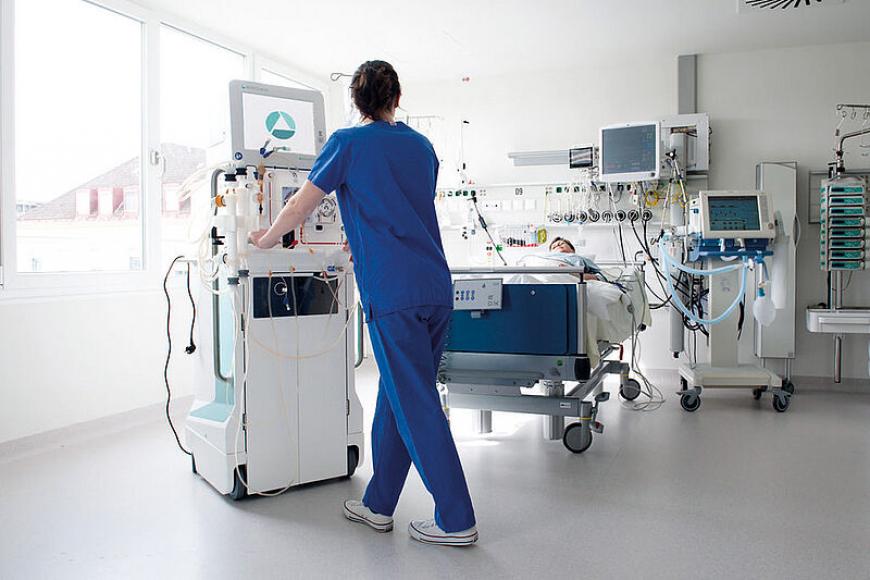 ADVITOS, an EIT Digital Accelerator supported company, has raised €20 million funding for its innovative muti-organ failure therapy solution. The financing round was led by Crédit Mutuel Equity, with a co-investment from the EIC Fund.
ADVITOS, a Munich-based company supported by the EIT Digital Accelerator, offers a highly technological solution for treating multiple organ failure – a common cause of death in intensive care units. The company has announced the completion of a €20 million financing round. The round was led by Crédit Mutuel Equity via its two subsidiaries, Crédit Mutuel Equity Germany and Crédit Mutuel Innovation. In addition, ADVITOS received funding from the European Union's European Innovation Council (EIC) Fund as part of the EIC Accelerator Pilot blended finance programme.
The EIT Digital Accelerator has been supporting ADVITOS during this fundraising with dedicated coaching and targeted introductions to a selected pool of investors interested in their space, size and geography.
This financing round is a major step in the further development of ADVITOS. It will enable us to grow much faster and seize the enormous market potential this unique and certified therapy has, not only in Europe, but globally.
commented Dr. Bernhard Kreymann, Founder and CEO of ADVITOS.
We have been lucky in taking advantage of the fundraising program offered by EIT Digital, and valued the expertise, persistence and outreach that the EIT Digital Accelerator team has offered to us. Providing this kind of highly competent hands-on fundraising support is a strongly needed and highly effective measure to secure and enable scaling of European deep tech innovations.
added Catherine Schreiber, co-founder of ADVITOS.
ADVOS - treating multiple organ failure
ADVITOS developed the ADVOS multi device (ADVanced Organ Support) to provide an integrated 4-in-1 multi-organ support therapy that enables simultaneous support of all three main detoxification organs – liver, lungs, and kidney – and corrects blood acid-base imbalances. Pilot trials in critically ill patients have shown that this therapy increased survival in severe organ failure from 20% up to 50%.
Multi-organ failure causes the deaths of approximately half a million intensive care patients in Western Europe and the USA every year. This is about 60% of all deaths in intensive care units. Due to the COVID-19 pandemic, this number has increased to around 750,000 patients in the past year.
On the other hand, conventional extracorporeal procedures such as mechanical ventilation, ECMO (extracorporeal membrane oxygenation), dialysis, and liver-assist therapy only support the function of one or two organs.
By treating all three organs simultaneously, and not consecutively like with existing solutions, ADVOS offers a holistic approach giving the patients a much better chance to recover.
The ADVOS therapy is CE marked, recognised by international experts, and is already in use in the intensive care units of over 20 hospitals throughout Germany, including a number of leading university hospitals.
The company currently employs 55 people. It has received numerous awards, including the 2020 Innovation Award Bavaria, and is listed in the Deloitte Technology Fast 50 Awards 2019.
Raise venture capital with EIT Digital Accelerator
With a network of over thousand active investors in Europe and beyond, the EIT Digital Accelerator offers a comprehensive support program to fast-growing digital technology companies looking to raise €3-25 million. Its international team of venture capital experts specialises in deep tech and helps founders find the right investors, perfect their investor pitch, and close the fundraising round on the best possible terms.
Learn how EIT Digital Accelerator can help your company scale internationally.