Image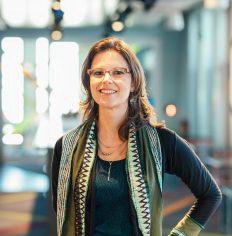 Graduate from EIT Journey Programme
Maria Fernanda Todeschini participated in the EIT Journey Programme in 2017. She discovered the programme in 2016 while she was enrolled in a Master's program in sustainable resource management at the Technical University of Munich. One of her friends participated in the Journey programme and was thrilled about it. This was all Maria Fernanda needed to be sure that she also wanted to participate.  
In 2017, after finishing her lectures, she had the honour to join a 3-week Journey in Cyprus and Sofia, "It was an amazing learning and cross-cultural experience", she highlights. Her team included two Spaniards, an Australian, a German, and her, a Brazilian with a variety of academic and professional backgrounds.  
The program's hard and enjoyable schedule, combined with diversity, resulted in an outpouring of creativity. One of the most enjoyable aspects of the Journey was exchanging ideas with the rest of the cohort and mentors. "It was so fulfilling to learn new contents, to discover skills that we didn't know that we had, and to exercise our critical thinking to build solutions to tackle climate challenges!" 
Her first experience with entrepreneurship was in high school in Brazil, when she assisted the establishment of a company that produced and distributed alfajores (Argentinian sweets), and she has been fascinated by entrepreneurial actions ever since.  
Later, while completing her Bachelor's degree in communications, she discovered that she wanted to engage with social and environmental issues and began looking for educational and professional options in this field. Climate change was (literally) becoming a hot topic, so she was confident that her transformation would happen quickly if she just focused on it.  
In addition to her EIT Climate-KIC Journey, Fernanda has pursued a Master's degree in sustainability, undertaken research projects in environmental policy, and volunteered for climate-related projects. "As I love being involved with multiple projects at the same time, as well as analysing problems holistically and designing solutions for them, I figured out that working as a consultant would be the perfect fit." 
In 2019, when she just moved from Munich to New York City, where she currently lives, she started to build her contacts network and kept in contact with people she knew from Brazil and Europe. Even before the pandemic, she had a vision of working with international clients and that became easier when suddenly videoconferences became part of everybody's work life. She also started to invest in her personal brand and to dedicate more time to business development along keeping a routine of studying different topics related to climate change.  
"I am now a happy solopreneur who helps sustainability-oriented clients to plan strategies, manage stakeholders and build communities. It takes a lot of effort to design a business on my own, but I'm glad I can rely on like-minded people from different communities (like Climate-KIC) who I can count on to exchange ideas or partner with to deliver solutions for my clients." 
The Journey was the very beginning of a process that later made her realize that her mission would be to support climate entrepreneurs as a consultant. After that, the EIT Climate-KIC Alumni community on Slack became an interesting environment to connect with people from other KICs, and also to join collaborative initiatives like the brainstorm to redesign the Journey, as well as the Participatory Grantmaking Panel, which she enjoyed so much that she wrote an article about it.  
Finally, as she living in the USA, she was glad to discover EIT's Silicon Valley's chapter. She attend their virtual events and helped communicate them to her contacts whenever she can.