Graduate from EIT Digital Master School & EIT WOMAN Award nominee 
Image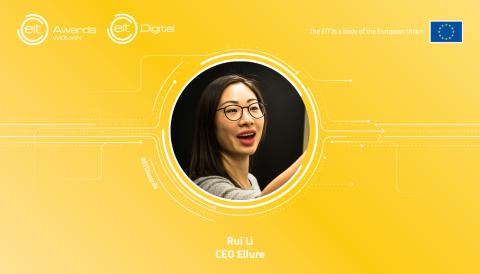 Reshape how society thinks about sustainability and consumption is what drove Rui Li and her co-founders to create Ellure AB. Ellure develops mass-personalisation technology to offer an inclusive beauty product line and reduce waste in the beauty industry. Their first product is a custom liquid lipstick, in which customers can design and choose the colour through a web-based colour design tool.
After she joined the EIT Digital Master School, she started investing in her entrepreneurial attitude and she discovered in the EIT Community the opportunity to strengthen skills and search new prospects. The team was rewarded start-up of the year 2020 by EIT Digital Alumni and "Start-up with the most potential" by the Swedish American Chamber of Commerce.
She believes in our power to elevate how things are designed and produced by merging the digital and physical experience. Her experience as CEO and EIT Alumni will be valuable for the EIT Alumni CONNECT on 28 and 29 November 2020, where she will be a speaker and present her insights to the topic of Responsible Consumption and Production and Industry Perspective towards it.
She is also one of the nominees of the EIT Awards 2020 in the WOMAN category. Find out the winners during the event on 8 and 9 December 2020.