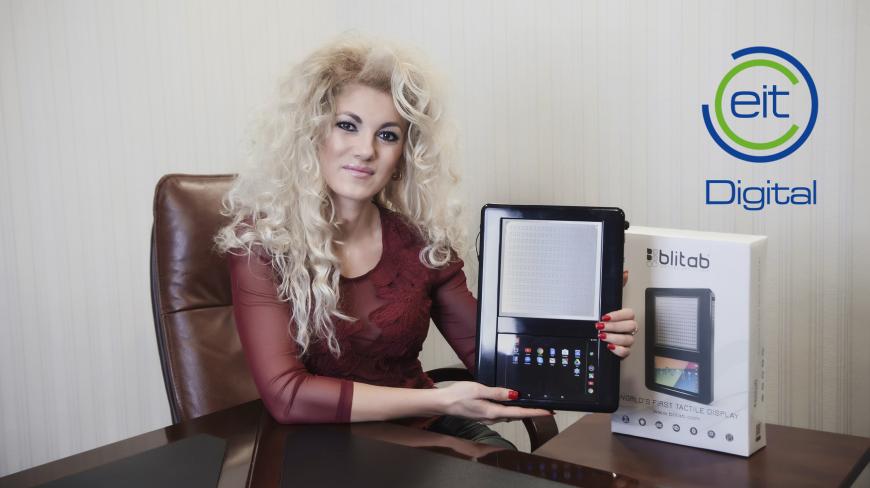 Kristina Tsvetanova of EIT Digital-supported BLITAB Technology wins EU 'Rising Innovator' Prize
Today the European Commission announced the winners of its annual Prize for Women Innovators. Kristina Tsvetanova from Bulgaria, CEO and co-founder of EIT Digital-supported BLITAB Technology, won the Rising Innovator category, recognising the best women entrepreneurs under 30 in Europe.
Tibor Navracsics, Commissioner for Education, Culture, Youth and Sport, responsible for the EIT, said: 'I would like to warmly congratulate all the winners of this year's EU Prize for Women Innovators, and Kristina Tsvetanova in particular. She is an excellent example of the kind of talent, entrepreneurial spirit and social engagement that the EIT promotes. I am proud that the EIT plays such an important role in enabling highly skilled, ambitious young people to fulfil their dreams – helping the EU to remain competitive and tackle the big societal challenges facing us.'
BLITAB Technology won the Social Entrepreneurship and Disability category of the European Network for Corporate Social Responsibility and Disability's (CSR+D) '2nd European Award for Social Entrepreneurship and Disability' with its award-winning innovation BLITAB® - the first tactile tablet for blind and visually impaired people.
BLITAB Technology joined the EIT Community after winning the 2016 EIT Digital Challenge in the Digital Wellbeing category. Kristina recently successfully showcased her innovative tablet at CES in Las Vegas. It was named one of Las Vegas's biggest launches by the BBC.
Martin Kern, EIT Interim Director, said: 'Europe needs more women entrepreneurs and innovators! Women are Europe's biggest untapped entrepreneurial potential. We cannot afford to lose the talent of women when we look for the future innovations to solve the challenges that Europe faces. The EIT Community is already organising women entrepreneurship and leadership activities, with the long-term aim of increasing the overall number of women leaders and entrepreneurs. We want to scale up these programmes to ensure that women innovators receive the support they need to turn their best ideas into products, start-ups and jobs for Europe. The fact that Kristina from the EIT Community received this prize shows that we start seeing the results of our efforts.'
---
Catch up with the latest news from the EIT Community in the Newsroom.
Subscribe to the EIT Newsletter to get the best of the EIT Community's news in your inbox once each month.
Do you use social media? Follow us and get updates in your news feed.
EIT Community:
Subject Audience:
Main Photo: Kristina Tsvetanova of EIT Digital-supported BLITAB Technology wins EU Prize