EIT Community Booster – Scaling New European Bauhaus Ventures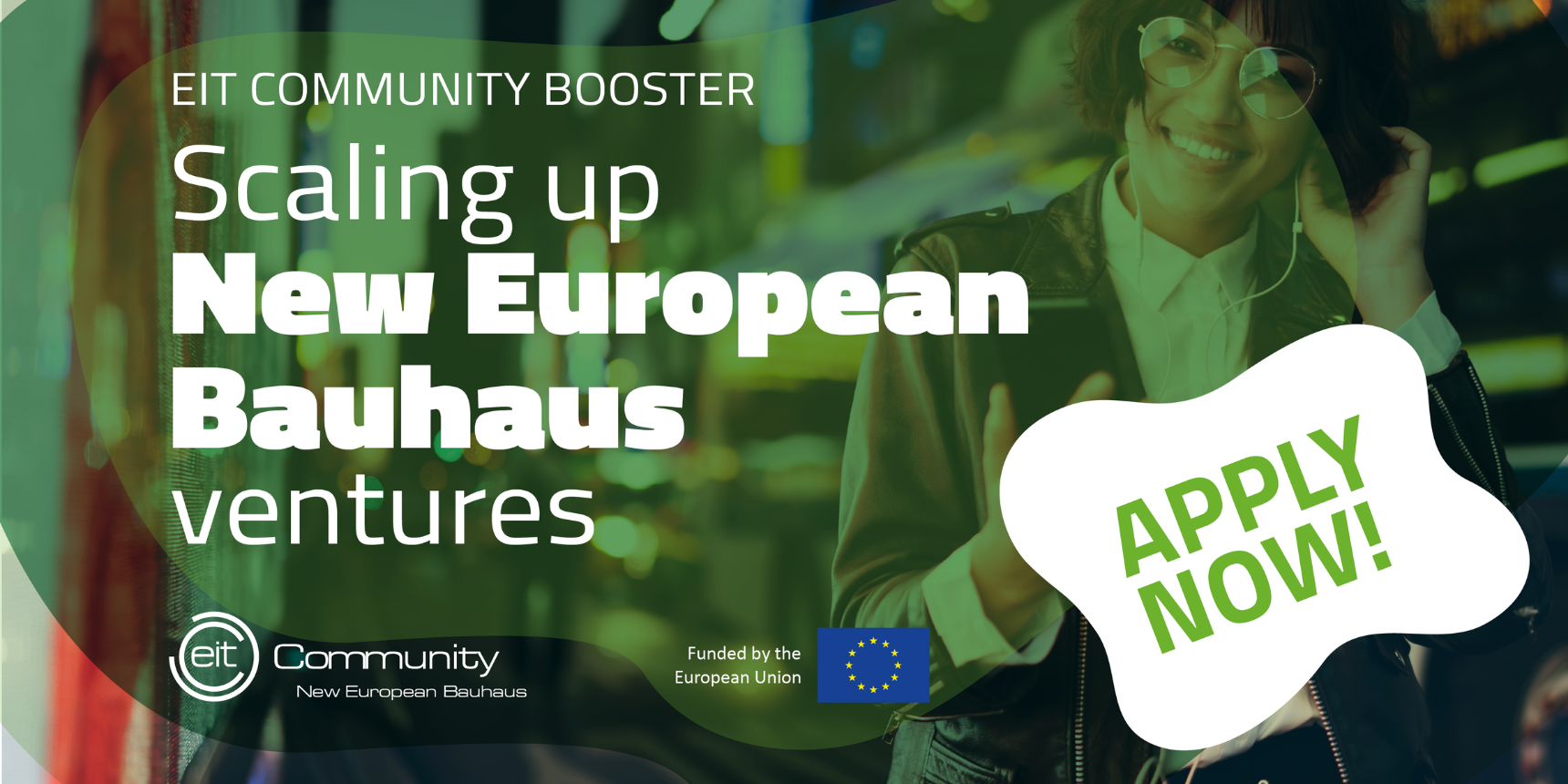 Start-ups and scale-ups developing innovative solutions, making Europe more sustainable and inclusive, can now apply for the EIT Community Booster Programme
The new EIT Community Booster Programme is part of the New European Bauhaus Initiative, intending to find and support ventures that can change and improve the quality of life of citizens. The EIT Community is looking for the most innovative ventures driving sustainable change for cities, industries, climate, food and wellbeing in order to support their business growth and help them become the international game changers.
Programmes
EIT Community booster combines the best business growth programmes offered by EIT Digital, EIT Climate, EIT Food, EIT Manufacturing and EIT Urban Mobility. You can apply for one or more programmes within the EIT Community Booster and their dedicated track for the New European Bauhaus:
EIT Climate-KIC: New Eueopean Bauhaus climate acceleration programme
EIT Digital: Scaling up European Digital Ventures
EIT Food: Drive food Innovation and transformation at scale
EIT Manufacturing: Green & socially sustainable manufacturing - startup acceleration Call
EIT Urban Mobility: take your mobility start-up to the next level!
Read more about each programme
Startups are welcome to submit their applications when providing services and solutions integrating sustainability, inclusiveness and aesthetics and responding to the following NEB challenges:
Green transition through architectural, cultural, and historic sites:
Natural building materials and energy efficiency, including refurbishment of existing, historic buildings.
Sustainable alternatives for hardscapes as urban spaces, naturalisation of degraded public areas, green areas, biodiversity, green and blue infrastructures, and urban furniture as assets promoting active mobility, improving citizen well-being, and mitigating heat island effects.
Urban farming and regenerative agriculture to reduce emissions and foster the relationship between city and farmer.
Towards circularity and urban resilience:
Enhancement of public realm, accessibility, and interconnection through active mobility modalities, to mitigate air pollution and noise, and improve physical and mental health.
Ensuring affordability and accessibility to all:
Energy communities to ensure comfort living at affordable prices through multidisciplinary retrofitting teams.
Shift from building-centric to community-centric approach in providing telecommunications, data, energy, water, waste.
Upgrade historic and old buildings to meet new energy efficiency requirements whilst preserving their significance and sense of belonging within the community.
Universal mobility as a key enabler for social inclusion. Everyone should be able to move freely within cities regardless gender, race, beliefs, or disability (barrier free access) 
The 20 best companies will receive acceleration support services worth a total of EUR 1 million. From early-stage teams to mature scale-ups, ventures of all levels can get the support they need to boost business growth, raise funding and scale up internationally.
Timeline 
| | | | |
| --- | --- | --- | --- |
| October 18, 2021 | December 17, 2021 | January-February, 2022 | March, 2022 |
| Applications open | Submission deadline | Evaluation and due diligence | Announcement of the selected companies for all 5 programmes |
More details on the prizes, eligibility criteria and deadlines can be found in the relevant factsheet