EIT HEI Initiative encourages Ukrainian organisations to apply for its latest call for proposals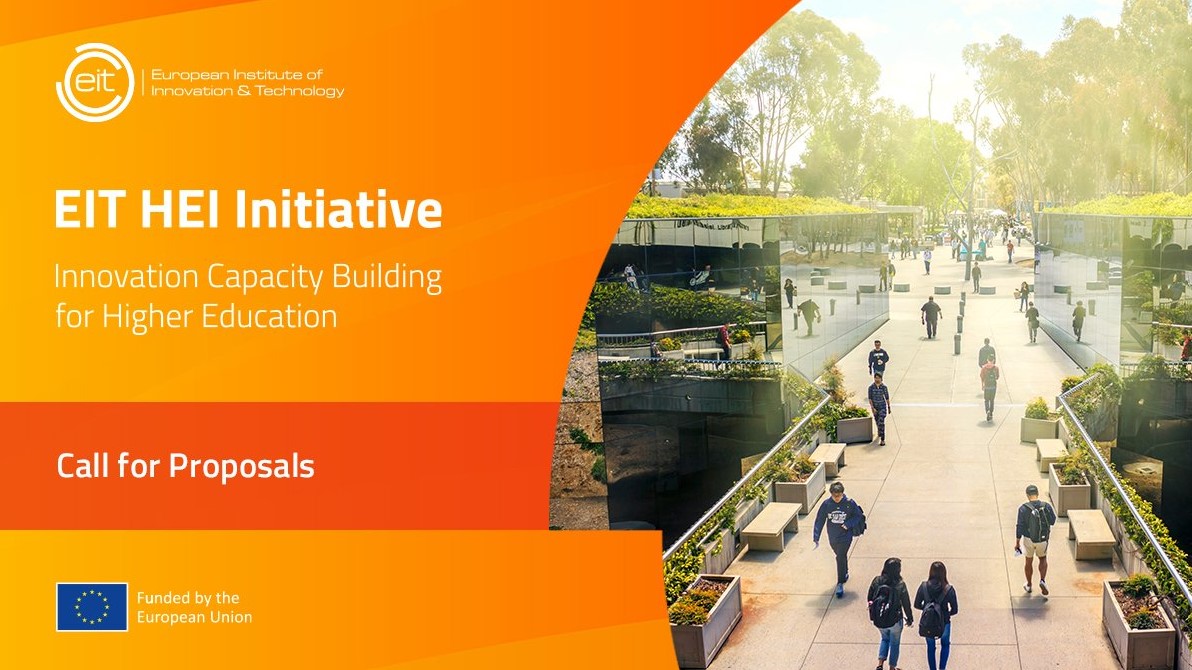 The European Institute of Innovation and Technology (EIT) has published a video in Ukrainian explaining the EIT HEI Initiative's latest call.
The video includes an overview of the initiative, a description of the current call for proposals, eligibility criteria, application guidelines, and more. We want to encourage Ukrainian organisations and institutions to apply to our call for proposals and boost their innovation and entrepreneurship ecosystems.
Involvement of Ukrainian institutions in previous calls by the EIT HEI Initiative
So far, a total of 14 Ukrainian higher education institutions have joined our projects, including Lviv Polytechnic National University, Kyiv Academic University, and Ternopil Ivan Puluj National Technical University.
About this call for proposals
For the first time, the call is open to both new organisations and existing partners from the Pilot Call and the second call for proposals. The call will select up to 16 projects, who will receive a maximum of EUR 750 000 with up to EUR 350 000 for Phase 1 (May−December 2023) and up to EUR 400 000 for Phase 2 (January−July 2024).
Consortia have until 28 February 2023, 17:00 CET, to submit their applications. The selected projects will be announced in May 2023.
Selected consortia should show how they will build innovation capacity through the integration of deep tech talent-fostering activities. They must also demonstrate how their applications align with the Deep Tech Talent Initiative and contribute to deep tech innovation.
The goal of the Deep Tech Talent Initiative is to train at least 1 million deep tech talents by 2025 through pan-European talent and skill development programmes. This will broaden Europe's labour force and expand the operations of high-growth companies working in the deep tech fields, such as advanced materials and manufacturing, artificial intelligence, biotechnology, blockchain, robotics, aerospace, photonics, electronics, quantum computing, sustainable energy, and cleantech.
All organisations in the selected projects from this call will submit an official expression of interest to join the Deep Tech Talent Initiative Pledge, given the close alignment of the EIT HEI Initiative's third call and the objectives of the Deep Tech Talent Initiative.
A few examples of deep tech activities include:
integrating deep tech fields in course curricula
supporting deep tech start-ups and spin-offs
facilitating deep tech innovations going to market
The majority of the available funding will be awarded to organisations that are not partners of an EIT Knowledge and Innovation Community (KIC) at the time of the call launch. For any organisations that participate in a Cohort 1 or 2 project, all their call 3-funded activities must be exclusively deep tech focused.
Networking and Matchmaking platform
The initiative has opened a Conversation Starter platform exclusively for Call 3, where you can register now. This platform supports you to meet & match with the participants who best fit your HEI project proposal concept​.​ It enables you to browse participants and send invitations for meetings, helping you form your perfect consortium!