EIT Urban Mobility: Citython 2020 - Amsterdam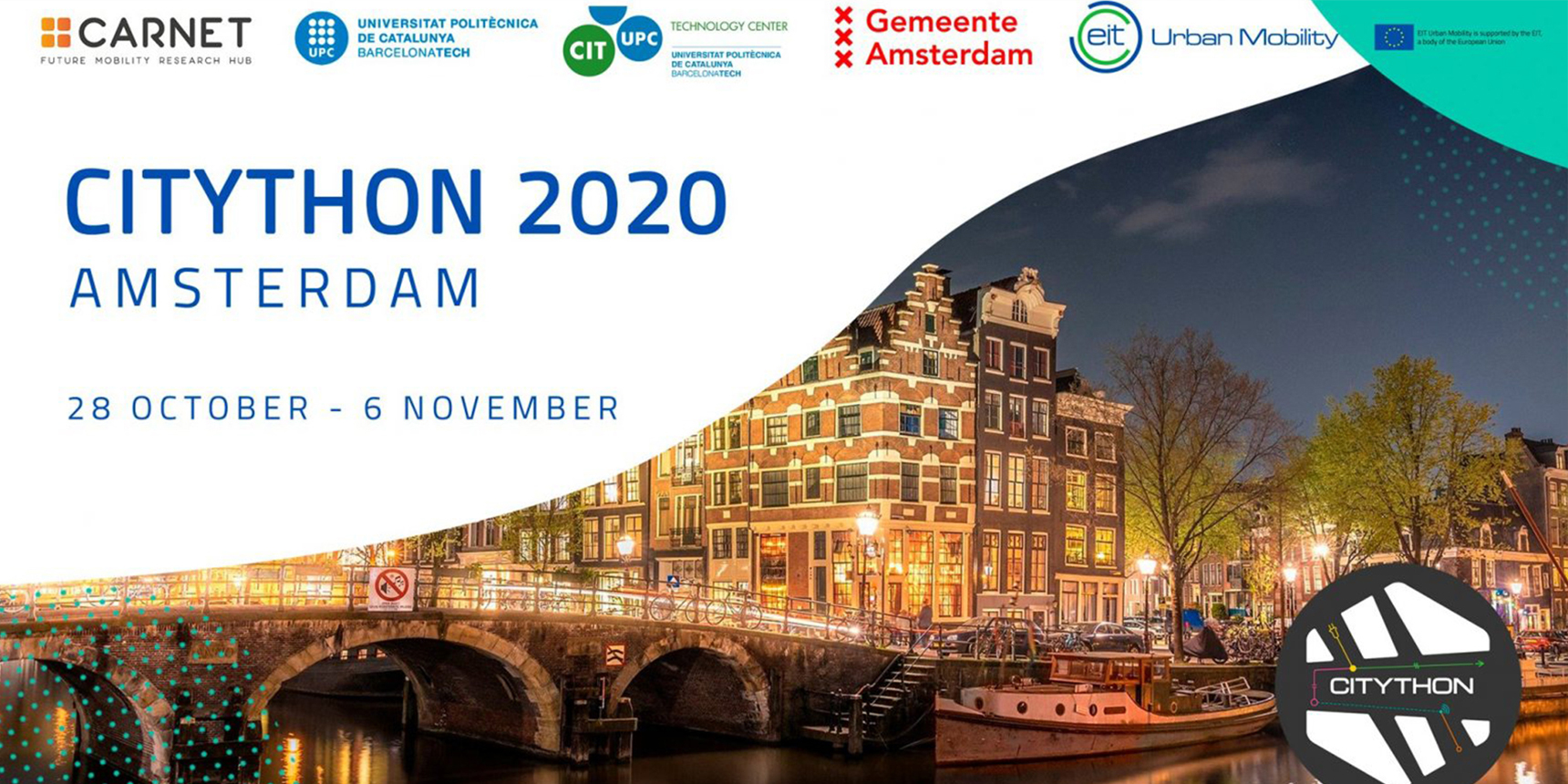 EIT Urban Mobility is organising as part of its core activities, its third 2020 Citython (online) in partnership with CARNET (an initiative coordinated by CIT UPC) and the City of Amsterdam (The Netherlands).
After the success of previous editions, this time the Citython will focus on how to tackle sustainable mobility with the use of digital tools in a competition open to all European citizens with a background in urban mobility and planning.
Citython Amsterdam 2020 will take place from 28 October to 6 November 2020. During the inaugural session, three urban mobility challenges for the city of Amsterdam will be presented by recognised experts in the field of urbanism and mobility. Our society is shifting towards a digital world, and for this new Citython edition, EIT Urban Mobility wants to create virtual tools and minimise physical solutions, which are usually expensive and hard to maintain. In a city where bikes are one of the main transport modes, the goal is to identify sustainable solutions consistent with the current mobility trends.
Deadline for registration: 28 October 2020
The three challenges teams will tackle in this new Citython edition will be:
Green & efficient deliveries for a better neighbourhood – Devise a solution for a more efficient – and preferably emission-free – supply of goods and services in busy neighbourhoods in the city. The liveability of the neighbourhood should be considered, as well as the consequences (financial or otherwise) for the customer of the goods or services.
Park that bike right – Design a solution that improves bike parking, being the emphasis on influencing behaviour and/or on small technical or physical solutions; not using for bike parking facilities or other large and physical solutions.
Journey simulator – Devise a journey simulator for the Amsterdam Area's mobility network that focuses on (potential) accessibility issues encountered during journeys. The simulator needs to be kept up to date and passengers must be able to deliver feedback.
Agenda and more information can be found here
Participants will have to work on their solutions until 6 October, when the final ideas will be presented to the jury. During the hackathon days, all groups will have the opportunity to attend individual online mentoring sessions to get feedback on their work and take part in a co-creation and collaboration environment. One prize of EUR 1 500 will be awarded in each of the three challenges.
Registration and further information:
Hacking days: 28 October – 6 November
Participation requirements: you must be at least 18 years old on the dates of the event. You must have a background in either data/computing or urbanism or both. More information about the specific skills required in each area can be found on the website. Participation is open to all European citizens.
Awards: there will be one winner for each of the three challenges (three winning teams in total). Each of the winning teams will be given a financial award of EUR 1 500.
Citython Amsterdam, just like previous Citython 2020 editions, will be held online to ensure security measures for all participants following recent events.
Please note that timing provided on this page is given for guidance only. Please visit the event website for up-to-date information.