EIT Urban Mobility Master School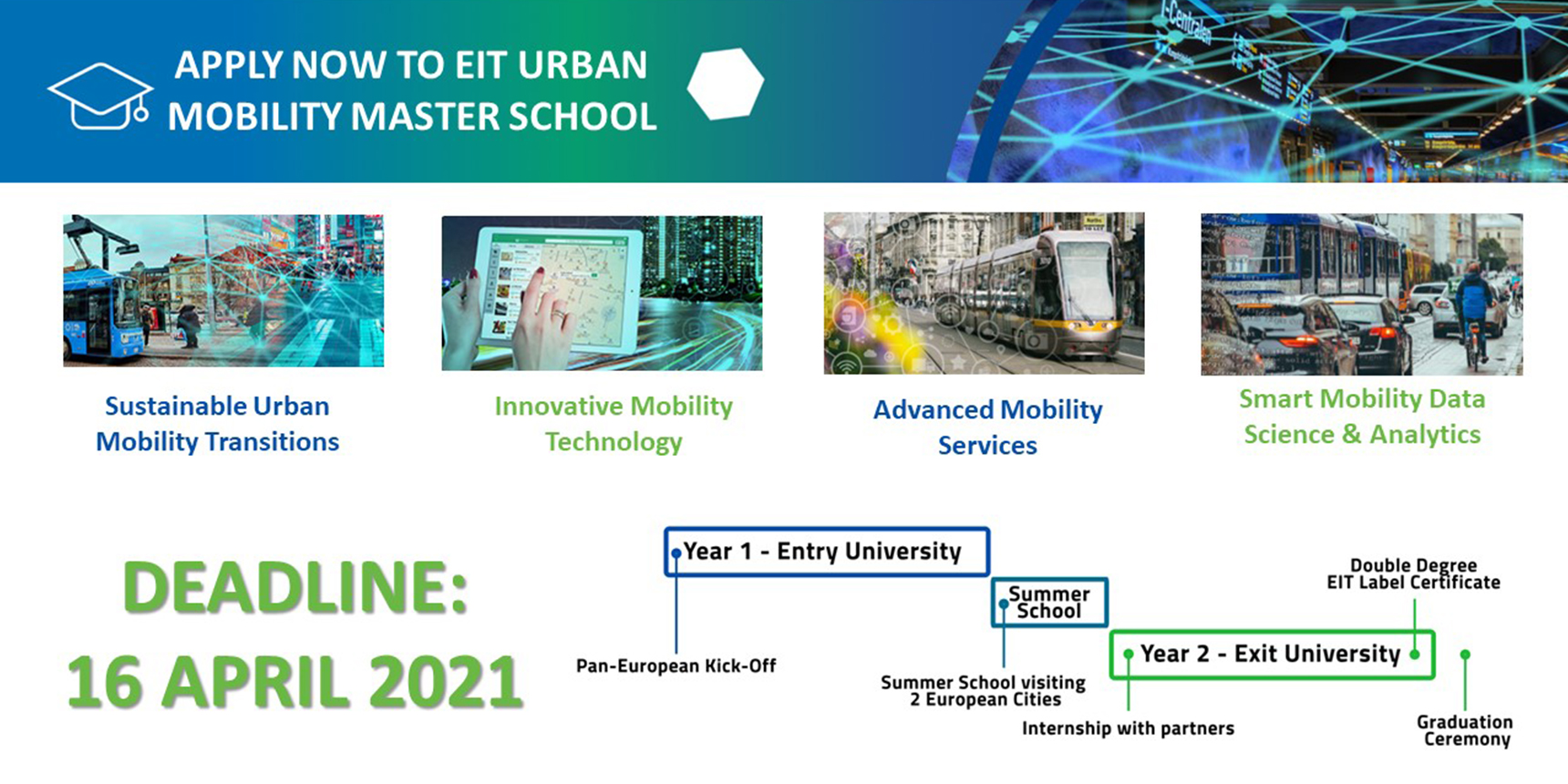 Apply now for EIT Urban Mobility Master School.
Round 2 application deadline: 16 April 2021
EIT Urban Mobility offers a unique Master School in cooperation with leading European universities, industry, and cities. The programmes will not only give students the education urgently needed by industry and cities, but also a valuable network and a truly international experience.
Starting in 2021, EIT Urban Mobility is offering four programmes emphasising different areas of urban mobility:
Sustainable Urban Mobility Transitions – offered since 2020 and newly recognised with the EIT Label, this programme prepares graduates to work with cities, industry, and other stakeholders to facilitate a transition to innovative mobility solutions that help meet local and global sustainability goals.
Advanced Mobility Services – new for 2021, graduates will become innovators in designing and providing mobility services for both people and goods, by integrating new technologies and business models and helping to reshape mobility markets in cities worldwide.
Innovative Mobility Technology – new for 2021, the programme equips graduates with the skills to design and develop user-centred future mobility tools and devices, and to assess their feasibility and sustainability at both the user and system level.
Smart Mobility, Data Science and Analytics – new for 2021, this programme emphasizes new and emerging transportation technologies and services for citizens, goods, and logistics, to forge a new generation of data scientists that are capable of exploring our ever-increasing urban data and extracting meaningful insights.
Application deadline for Round 2: 16 April 2021 - 16:00 (CET)
Applications Dates and Deadlines
The application process is divided into two periods and only one application per intake is possible:
Period 1: 17 November 2020 – 1 February 2021 (Closed)
Period 2: 15 February 2021 – 16 April 2021
For more information on selection criteria, admissions process and key deadlines, please go to EIT Urban Mobility Master School webpage.