EIT Urban Mobility: Start-up Investment 2021 (Q2)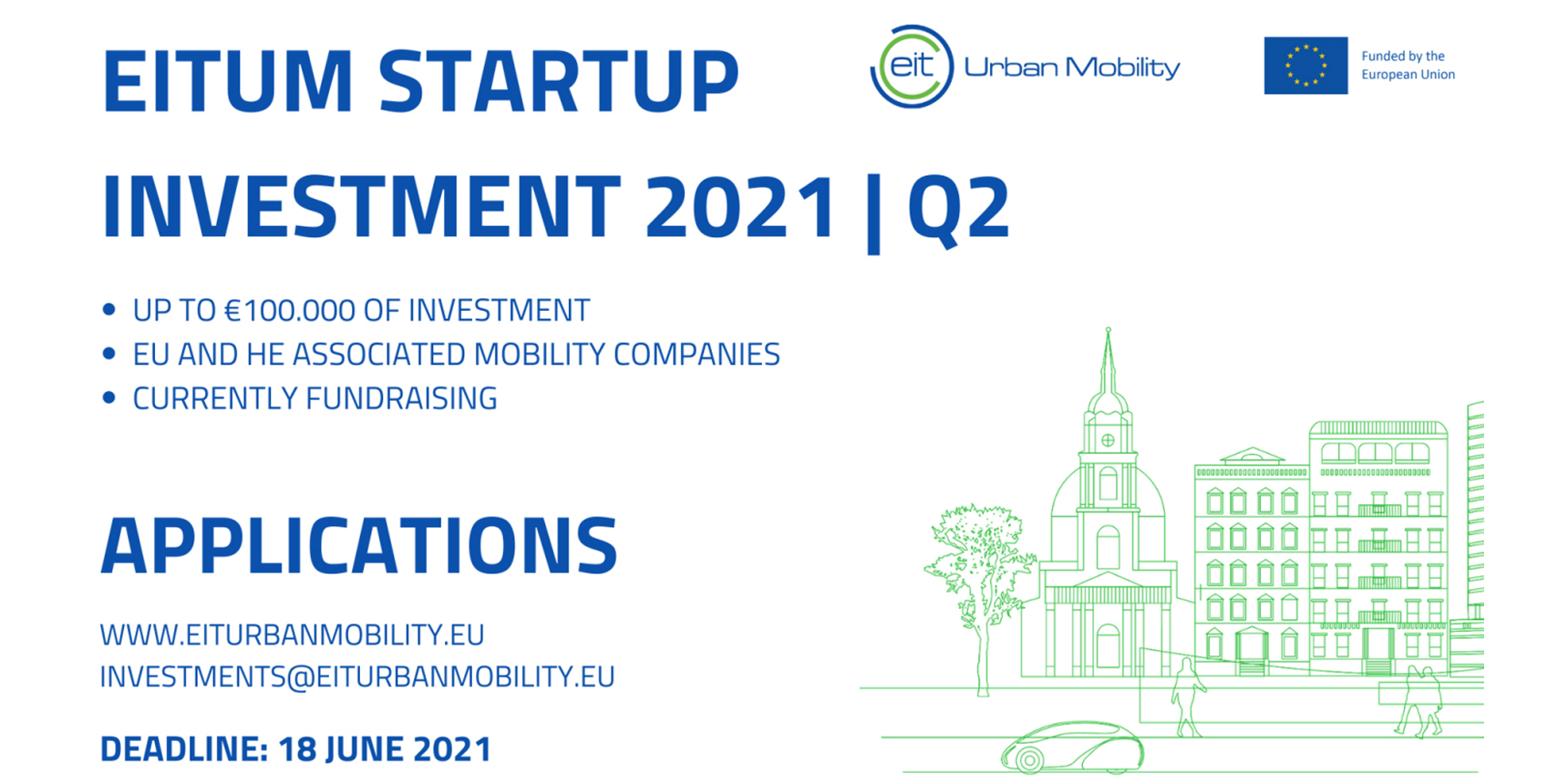 Be part of the EIT Urban Mobility Start-up Investment round and take your mobility start-up to the next level!
Deadline for submission: 18 June 2021
Urban mobility is undergoing one of the most transformational shifts of a generation. A successful strategy in the industry requires the adoption of a comprehensive and coherent approach, centered on innovative ventures that are disrupting this landscape. 
While the pandemic has taken a heavy toll on the economy, the crisis has also encountered major opportunities for innovation. Examples of drivers underpinning this ongoing transformation are start-ups, scale-ups and SMEs with high financial, environmental and social impact and growth potential.
In pursuit of leading positive change and business prosperity, EIT Urban Mobility is investing up to EUR 100 000 per company in high-impact start-ups, scale-ups and SMEs to accelerate their journey, to continue critical innovation and to ultimately transform the European urban mobility landscape.
Who qualifies for the start-up investment
Start-ups, scale-ups and SMEs currently fundraising or preferably already in an ongoing funding round with the following characteristics:
Incorporated not more than 10 years ago
Less than 100 employees on their payroll in Q2, 2021
Innovative product/service contributing to at least one of the EIT Urban Mobility Focus Areas
The offer
EIT Urban Mobility start-up investment instrument consists of up to EUR 100 000 in exchange for equity.  If selected for investment, your company will also benefit from access to regional ecosystems, infrastructure and coaching to drive growth and internationalisation.
Selection process and key dates
Please use this application form to express interest in this funding instrument and provide all requested  details about your company by 18 June 2021, 12:00 PM (CET)
All applications will be evaluated by EIT Urban Mobility staff with the support of independent external experts and venture capital investors
Within the month of July 2021, EIT Urban Mobility will let you know the outcomes of your application and next steps
For more information on the requirements, eligibility criteria and timeline, please visit the dedicated page, or contact pablo.garrido@eiturbanmobility.eu.
Discover more about the EIT Urban Mobility Start-up Investment 2021