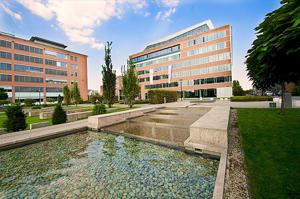 To foster new ideas and inspire innovation, the European Institute of Innovation and Technology (EIT) combines expertise with vision. Decisions are taken striking the right balance between flexibility and accountability. This is a result of the EIT's light two-level structure, which combines the strategic steering of the EIT Governing Board with a solid management team and a decentralised operational array of partnerships (the Innovation Communities, drawing upon Europe's most excellent innovators.
The EIT and its operations are managed by the Director, Martin Kern, since 1 August 2014. The Director reports to a fully independent Governing Board comprising of a balance of high-calibre professionals from business and academic backgrounds and chaired by Nektarios Tavernarakis, who started his mandate on 1 July 2022. The role of the EIT Governing Board is to provide strategic guidance to the EIT and it is also responsible to select, evaluate and support the EIT's Innovation Communities.
The EIT is based in Budapest, Hungary. The Institute is structured in a number of Units and departments (organisational chart) fully aligned with the EIT's mission and activities.
Click here to contact the EIT.
For any media enquiries, please visit our press page
Catch up with the latest news from the EIT Community.
Subscribe to the EIT Newsletter to get the best of the EIT Community's news in your inbox once each month