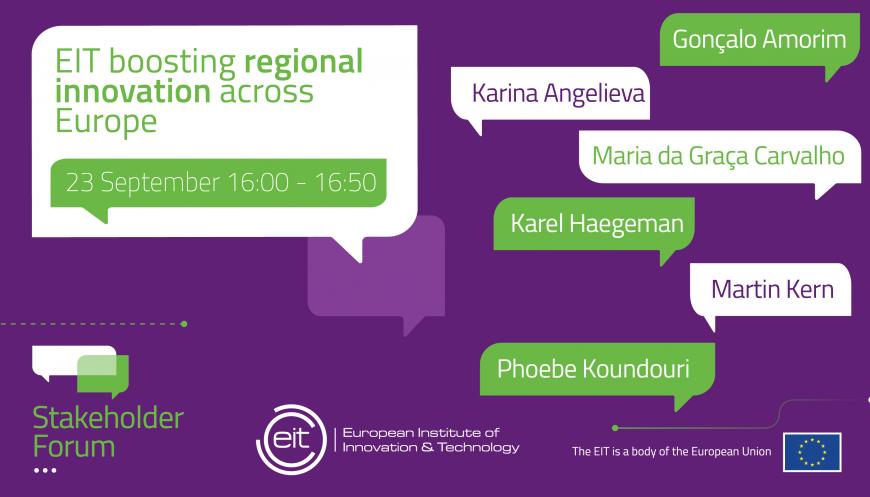 23 September 16:00 - 16:45 - The EIT launched its Regional Innovation Scheme (EIT RIS) in 2014 to reduce regional innovation disparities across Europe.
Through the initiative, the EIT has enhanced its outreach to countries with lower innovation performance and limited participation in EIT Community activities. To strengthen the EIT RIS, the European Commission has proposed that the EIT bolster this Initiative as part of its Strategic Innovation Agenda for 2021-2027.
This panel discussion, taking place in the context of the EU Research & Innovation Days, will give participants the chance to learn more about and discuss the EIT RIS and its emboldened future. Based on what they hear, participants will then be invited to respond to an online consultation on the topic from 30 September. The session is part of the EIT Stakeholder Forum, that enables the EIT to engage with its many stakeholders and partners.
23 September 2020, 16:00 - 16:45
Where
Virtual Event (note: if you experience access issues to this session, we recommend trying an alternative website browser to the one you are using)
Speakers
Goncalo Amorim, Executive Director, Building Global Innovators
Karina Angelieva, Deputy Minister of Education and Science, Republic of Bulgaria
Maria da Graca Carvalho, Member of the European Parliament
Karel-Herman Haegeman, Scientific Officer, Joint Research Centre, European Commission
Martin Kern, Director, European Institute of Innovation and Technology
Phoebe Koundouri, President-elect, European Association of Environmental and Natural Resource Economists
Journalist Brian Maguire will moderate.