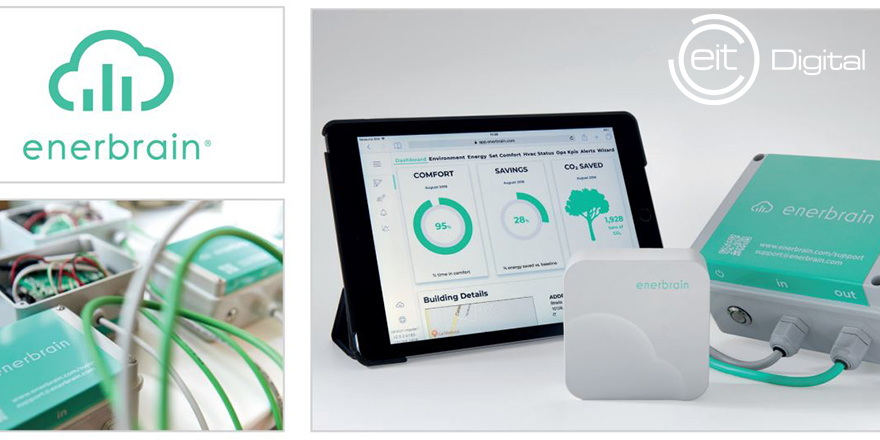 Iren, one of the largest multi-utility companies in Italy, selected EIT Digital Accelerator portfolio scale-up Enerbrain to transform 89 Turin City Council buildings into smarter buildings.
In October 2018, Enerbrain won the 1st prize of the EIT Digital Challenge in the category Digital Industry and joined EIT Digital Accelerator to boost international growth. The Italian scale-up was awarded for their technology that improves the financial productivity and comfort of buildings without the need to modify any of the existing systems.
The IoT solution developed by Enerbrain measures comfort and air quality parameters - such as humidity, temperature, CO2 and pollutants - and optimises them in real time. In addition to saving about 6 700 Megawatt hours, the agreement between Enerbrain and Iren will save the citizens of Turin 1 400 tonnes of CO2: this equals adding 100 000 trees to the city's ecosystem, the equivalent of 50 parks the size of Turin's Valentino Park.
Credit for this goes to Enerbrain's machine learning algorithm which allows systems to continuously refine their programming to eliminate any possible waste. Iren, which in 2017 had already acclaimed Enerbrain as the best Italian start-up, has now chosen the company to accelerate the optimisation of existing HVAC systems (heating, ventilation and cooling) without having to replace them.
Savings and wellbeing are also assured by the constant monitoring of volatile organic compounds (VOCs) present inside the buildings. Enerbrain's scalable solution can easily integrate new buildings, while maintaining unified management and data consultation through an analytical dashboard, also accessible from smartphones and tablets.
"For us this partnership is a milestone but also a new starting point", says Giuseppe Giordano, CEO and founder of Enerbrain. 'Iren was the first multi-utility to confirm that we are on the right track and today's agreement crowns a collaboration that began practically from the first day of our journey.'
ABOUT ENERBRAIN
Founded in 2015 within the Innovative Enterprises Incubator of Turin Polytechnic, Enerbrain has developed retrofit energy solutions for large buildings that allow dramatic cuts in consumption as well as a significant improvement in indoor comfort.
ABOUT EIT DIGITAL ACCELERATOR
EIT Digital Accelerator provides tailor-made growth support for European tech scale-ups by helping secure international customers and raise capital. The Accelerator team comprises around 30 experienced business developers and finance experts operating from 15 cities across Europe, along with a hub in Silicon Valley. Since 2012, they have supported 300 startups who raised over EUR 550 million in investment, with more than EUR 100 million directly facilitated by the Accelerator. The programme was ranked 8th among the Top 20 Active Accelerators in the Global Accelerator Report 2016 by Gust.
Interested to learn more about the growth services of the EIT Digital Accelerator? Get in touch!
ABOUT EIT DIGITAL CHALLENGE
The EIT Digital Challenge is the leading pitching competition focused on fast-growing European deep tech scale-ups seeking to accelerate their growth. The contest runs in five categories: Digital Industry, Digital Cities, Digital Wellbeing, Digital Tech and Digital Finance. The two best companies per category will gain 12 months in the EIT Digital Accelerator worth EUR 50 000 to scale up their business internationally. On top of that, the first prize winner in each category receives a cash prize of EUR 50 000.
The next application phase of the EIT Digital Challenge will open at the end of April. Sign up for the EIT Digital newsletter to be notified.
---