Software Vendor disrupting the customer onboarding industry through its Video Identification technology joins EIT Digital's Accelerator
Electronic ID is a video identification SaaS platform being the first solution that identifies people by video in real time with the same level of technical security and legal compliance as face-to-face identification, in seconds.
It is indeed a very big deal as for today, client identification is very painful as it is mostly performed in person. The digitalisation of identification processes is currently very low causing huge costs for companies in banking, insurance, telecommunications, utilities, and public administrations, and it decreases client conversion while increases time to acquire new clients.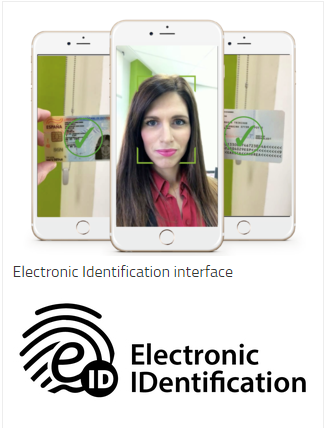 To end these problematics, Electronic ID has created VideoID, a solution that combines video in streaming with the most advanced Artificial Intelligence Algorithm to verify natural persons in real time in only a few seconds and with the same level of security and legal compliance as face to face identification (VideoID counts with an international patent). Gartner has recently named Electronic ID Cool Vendor for 2017 because of their creation of a new internet category services for video identification.
What is the result?
A much faster time to market and a more convenient and flexible process for the customer (avoids queues in the branch office, going there and back home, receiving the information, printing of papers and signing) which reduces the average of abandonment rate and increases the business and the efficiency of the process.
The numbers are staggering: time to market goes from three weeks to only three minutes, customer conversion rate increases 60%, and there are no more territory barriers to perform businesses. Moreover, their solution is fully compliant with most stringent regulations as European AML or eIDAS. There is a huge market opportunity due to digitalisation and security standards demanded by multiple industries like Retail Banking, Telecommunications, E-Democracy, Sharing Economy, etcetera.
EIT Digital Madrid Node Director, Jesús Contreras, said: 'We are really glad to have Electronic ID on-board; they are a totally unique and disruptive technology that might become one of the next European tech unicorns. Also, they will strengthen the extremely powerful Digital Infrastructure Spanish ecosystem at EIT Digital.'
Electronic ID's CEO, Iván Nabalón, said: 'We are really happy to become part of EIT Digital's Accelerator and eager to show our technology to banks and financial institutions across European countries. We believe that by joining EIT Digital's ecosystem we are going to boost our brand and our commercial operations in Europe.
About Electronic ID
The company has a team of more than 20 professionals working in Madrid and counts many top-level corporates among their clients. Also, they are winners of several prizes such as Finance Titans 2016 or Cybercamp Award 2015, and they have been named as one of the Regtech100 most innovative companies across the globe.
Electronic ID now integrates EIT Digital's Digital Infrastructure Action Line, which is the core enabler of the digital transformation by providing secure, robust, responsive and intelligent communications and computation facilities.
---
Catch up with the latest news from the EIT Community in the Newsroom.
Subscribe to the EIT Newsletter to get the best of the EIT Community's news in your inbox once each month.
Do you use social media? Follow us and get updates in your news feed.