The EIT is pleased to announce the launch of new multi-annual business plans (2023-2025) for its Knowledge and Innovation Communities.
An EIT Knowledge and Innovation Community (KICs) is a thriving partnership that brings together partners from business, research centres and higher education institutions to power innovation.The EIT has set up eight KICs, each tackling a specific global challenge, from climate change to sustainable energy and urban mobility to digitisation of our societies. EIT Knowledge and Innovation communities are home to partners, innovators, students, and entrepreneurs, and act as the building blocks of the EIT Community – Europe's largest innovation ecosystem! Very soon the EIT will have a ninth KIC – EIT Culture and Creativity, this call does not yet impact EIT Culture and Creativity, that is in the current process of being formed.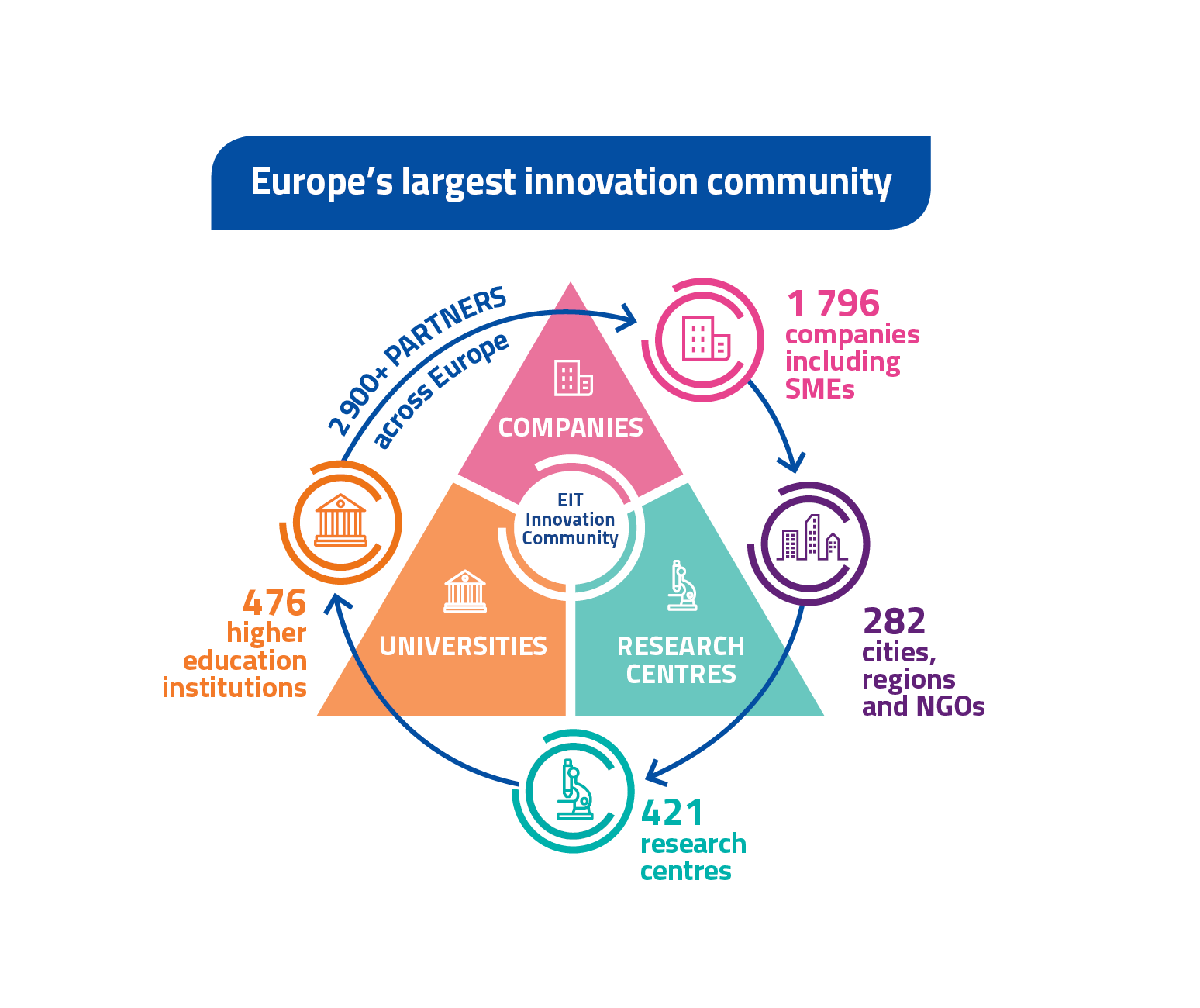 New Multi-Annual Grants
As set out in the EIT's strategy for 2021 to 2027, the EIT will now begin to offer multi-annual grants to its Innovation Communities in order to strengthen the impact of their respective activities and continue to power innovation. The main conditions for the multi-annual grants for the period of 2023-2025 are defined in the Invitation to submit proposals for EU action grants as well as in the respective guidelines and templates. The EIT, as part of the European Union's Horizon Europe (HE) Framework Programme for Research and Innovation, is launching the following invitation for EU action grants in full alignment with Horizon Europe guidelines. More details on the actions and the topics, the timeline, the eligible entities, eligible activities, evaluation criteria and the allocation process can be found in the call for proposals.
Action Proposals
EIT Knowledge and Innovation communities are being invited to submit three types of action proposals under sixteen topics:
KIC Business Plans 2023-2025 (KIC Business Plans 2023-2024 in case of first-wave KICs)

A KIC Business Plan is a comprehensive document describing the implementation of an EIT Knowledge and Innovation Community's seven‐year strategy, known as the KIC Strategic Agenda. The KIC Business Plan also contains the planned portfolio of KIC activities for a particular period. With the current launch of the new multi-annual grants, the period covered will extend to three years, with the exception of 'first-wave KICs' (EIT Climate-KIC, EIT Digital, and EIT InnoEnergy) with a two years duration.
Cross-KIC strategic activities and shared services 2023-2025, Cross-KIC Thematic Innovations 2023-2025

A 'Cross-KIC' activity is a joint EIT Innovation Community action, harnessing the power of the EIT Innovation Ecosystem: multiple Innovation Communities come together and deploy their expertise, network and services to address a specific challenge or call. Current Cross-KIC activities work to tackle water scarcity in Europe, promote circular economy practisies for a more sustainable Europe, address the gender gap in tech diciplines and much more! Joint Innovation Community actions have proven to be successful and the EIT wants to strengthen Cross-KIC activities, promoting KICs to come together and use the tools they have to address even more challenges faced by Europe.
EIT HEI initiative 2023-2025

The EIT HEI Initiative: Innovation Capacity Building for Higher Education is a joint EIT Community activity that supports higher education institutions in becoming regional engines of innovation. With expertise, coaching and access to the EIT's innovation ecosystem, universities and institutions develop concreate actions to increase their levels of innovation by embedding entrepreneurship and innovation into all levels of teaching, and customising actions plans to create systemic impact and support. The continuation of the HEI initiative and further grant allocation beyond 2023 is subject to the outcome of a review and positive decision of the EIT Governing Boar
Available budget 2023-2025
For the 2023-2025 period, the indicative EIT budget available for grants for the initial multi-annual funding allocation decision is EUR 905 million. Please see the table below for breakdown of the funding allocation:
Action Proposal

Indicative budget (in MEUR)

EIT KIC Fund (i.e. KIC Business Plans incl. EIT RIS) 2023-2025

(2023-2024 in case of first wave KIC)

790

Cross-KIC Fund 2023-2025

75

EIT HEI Fund (i.e. EIT HEI activities) 2023

40

Total (without third country contributions)

905
How can I get Involved?
The current call for proposals (Invitation to submit proposals for EU action grants) is allocated for EIT Knowledge and Innovation Communities in order for them to be able to carry out the plethora of activities and services they offer to innovators, students, entrepreneurs and SMEs. EIT KICs have a wide range of related opportunities, please consult each Innovation Community's website here or click on the opportunities page here to find out which is best suited to your needs. We invite all interested individuals and organisations to get in touch with EIT KICs, partner with their network and services and join Europe's largest innovation ecosystem!