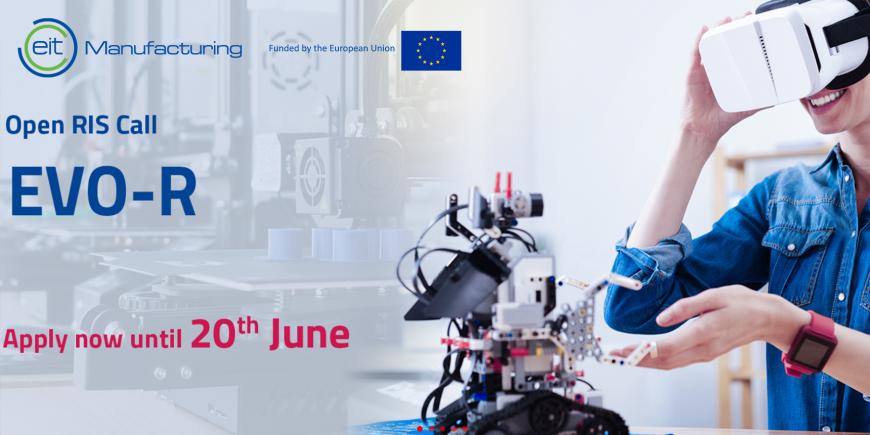 EIT Manufacturing has launched a call for its EVO-R competition, that aims to attract, select, and support small teams/entities from EIT RIS countries.
Application deadline: 20 June 2021 - 17:00 (CET)
What is EVO-R
EVO-R is the competition organised by EIT Manufacturing that aims to attract, select and support small teams/entities coming from countries covered by the EIT Regional Innovation Scheme (EIT RIS). The activity will provide financial support to the selected entities, as well as in-kind support.
Selected entities are eligible to receive financial support in the form of sub-granting to conduct the following activities (all applicants need to choose at least two out of five activities):
Further develop research results into commercially available small-scale products or services
Look for/acquire potential customers in the EU and world markets (consulting, lead generation services, etc.)
Prepare the market launch of the product/services (legal services, consulting, website development, etc.)
Acquire product/service-related certificates which fosters business development in certain industrial sectors or markets (ETV certificates, patent registrations, trademark, ISO, etc.)
Establishment of a company (legal services, establishment costs, accounting, etc.)
Who can apply
Research teams (individuals), SMEs, start-ups, universities, research and technology organisations (RTO), and university-owned research foundations from EIT RIS eligible countries who have already developed a prototype addressing manufacturing-related challenges, with a convincing financial, environmental, and societal impact potential.
Timeline
Call opens: 20 May 2021
Call closes: 20 June 2021 at 17:00 (CET)
Selection of the support team: from mid-June till mid July (indicative)
Project Development period: from mid-July till the end of 2021 (indicative)
Available funding
Maximum twenty-five selected organisations will receive sub-granting up to EUR 30 000.
How to apply
Send a complete application via email to ris@eitmanufacturing.eu until June, 20 2021 17:00 (CET).
A complete application should consist of: a filled out 'EVO-R' application template (submits as a PDF document); a filled-out financial plan and revenue forecast (submit as a Microsoft Excel document); and to be sent via email to ris@eitmanufacturing.eu with the subject 'EIT Manufacturing EVO-R - [NAME OF PROPOSAL]'.
The total size of all files to be sent in email (filled out application template; financial plan and revenue forecast) shall not exceed twenty megabytes (20MB).
You may find the related documents here:
For more information, please visit the dedicated page, or contact Adam Sebestyen.