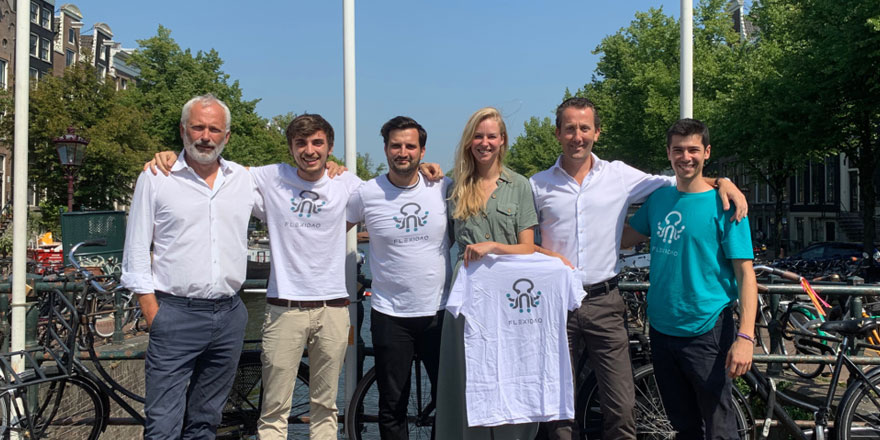 Simone Accornero's start-up FlexiDao successfully secured a seven-digit seed round by SET Ventures and EIT InnoEnergy
Co-founder and CEO of FlexiDao, Simone Accornero, supported by EIT InnoEnergy, won the EIT Change Award at INNOVEIT 2018. With the new investment, the Spanish company aims to accelerate international growth of its blockchain-based energy provenance service and to develop new use cases leveraging on the existing middleware platform.
About FlexiDao
Since its foundation in 2017, FlexiDao has positioned itself rapidly as one of the commercially leading European blockchain start-ups in the energy space. The company has shown the viability of moving from proofs of concept to commercial rollout and is now present in seven countries.
FlexiDao has already partnered with six leading utilities – such as Iberdrola and Acciona, also EIT InnoEnergy partners – allowing them to offer a corporate social responsibility service to C&I customers. Customers can select preferred local renewable energy plants and track the matching of this green energy with their own consumption on an hourly basis. FlexiDao's provenance tool is tracking more than 4GWh of energy, applied to PPAs, green tariffs, onsite generation or electric vehicles.
Beyond energy traceability, FlexiDAO offers a middleware gateway that can enable a scalable and secure interaction with any blockchain infrastructure for other applications.
New investment
Renewable energy tracking is the first use case that demonstrates the commercial value of blockchain in the energy sector today. However, FlexiDAO's mission reaches beyond this initial step: we want to effectively coordinate millions of distributed energy resources on the grid and accelerate the energy transition. We are excited to partner with SET Ventures to leap jump towards that goal.

Simone Accornero, CEO and co-founder of FlexiDAO
Award-winning venture capital firm SET Ventures has been closely following the evolution of blockchain in the energy sector over the past years as it believes that blockchain technology may be the key to a truly decentralised clean energy system. Investment Manager at SET Ventures, Julia Padberg, also joined the Supervisory Board of FlexiDAO on behalf of SET Ventures.
FlexiDAO is already a leader in the rapidly emerging energy blockchain space, being one of the first players that are rolling out a blockchain-enabled application at scale. We are very proud to join and support this excellent young team on their growth journey.

Julia Padberg, Investment Manager at SET Ventures
Born in Barcelona, Spain, the 2018 EIT Change Award winner FlexiDao moved its headquarters to Amsterdam to be present in one of the leading European cleantech and blockchain cities. The company also maintains a presence in Barcelona.
---
Want to know more about FlexiDao?
Website: flexidao.com
Read the FlexiDao success story
Checking in with the 2018 EIT Awards Winners. This week, Simone Accornero
19 EIT Community innovators listed on the #SET100
EIT InnoEnergy: New Kids on the Blockchain - Doing Things Smarter