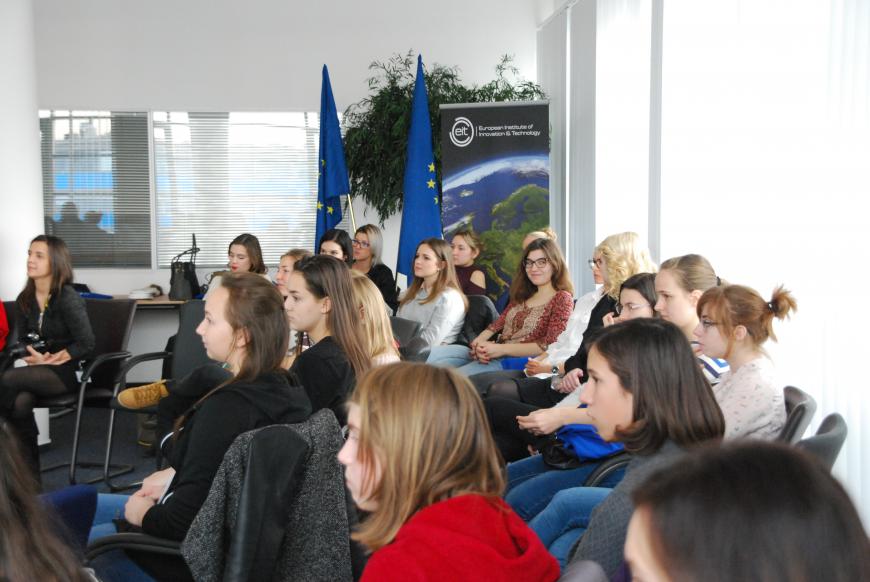 EIT co-hosts Women Entrepreneurship Workshop with JA Hungary
On 16 November, the EIT, in cooperation with JA (Junior Achievement) Hungary, held a workshop for girls in local Hungarian schools on the topic of women entrepreneurship and leadership.
Taking place at EIT Headquarters, over 40 students aged between 12 and 18 took part in an afternoon of presentations and discussions on how to promote women entrepreneurship in Hungary. Local speakers were invited to provide the participants with some inspirational success stories.
The speakers were:
Lili Vetlényi-Lantos

Lili is a young entrepreneur from Hungary who has recently set up her own fashion and design company, based in the centre of Budapest. - Hababa Design.  She explained the challenges she faced by being both a young mother and aspiring entrepreneur. 

Orsolya Nemes

Orsolya was another local entrepreneur who had recently moved into the creative industry, she is now working as a pitching trainer in Budapest.

Klára Tatár-Kiss

Klára currently works in the Hungarian banking sector. She explained to the participants her own experiences of being an entrepreneur. Her key message was that while you may need a specific set of skills to be a successful entrepreneur, everyone has to find their own unique path.
Following the presentations the audience was invited to pose their own questions to each speaker. 
The event was the last of the 2017 series of workshops and activities developed by the EIT in partnership with JA Europe.
The EIT would like to once again thank JA Europe for its commitment in the past year. The successful series of workshops have been held in Hungary, Romania and Bulgaria this year, and the EIT looks forward to continued cooperation with JA Europe next year.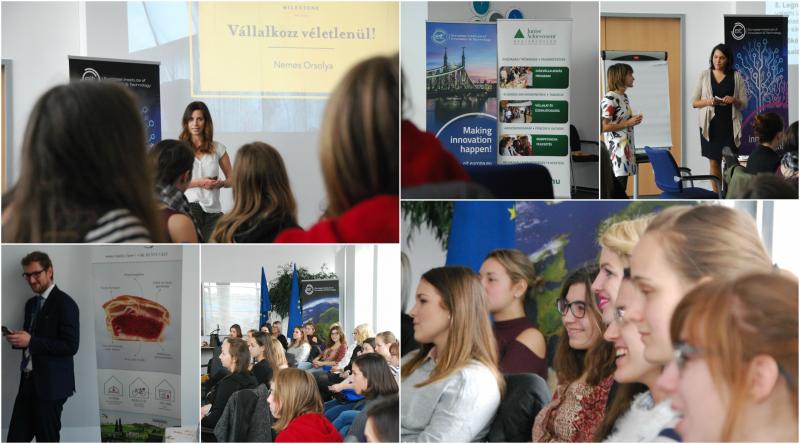 Background
JA is Europe's largest provider of education programmes for entrepreneurship, work readiness and financial literacy, reaching 3.5 million students in 40 countries in 2016.
Founded in 2001 when Young Enterprise Europe and Junior Achievement International Europe merged, JA works with the education and business communities as well as governments to provide young people from primary school to university with experiences that build the skills and competences they will need to succeed in a global economy.
JA Europe is the European Regional Operating Centre for JA Worldwide®.
JA activities have been endorsed as best practice by the European Commission.
---
Catch up with the latest news from the EIT Community in the Newsroom.
Subscribe to the EIT Newsletter to get the best of the EIT Community's news in your inbox once each month.
Do you use social media? Follow us and get updates in your news feed.
EIT Community:
Subject Audience:
Main Photo: JA Hungary